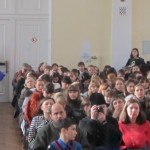 The Second All-Ukrainian Conference on Biblical History and Christian Ethics was held in Poltava University. This year it featured theFaithSearch Discovery presentation. Students, teachers, professors, clergy and Education ministry officials were presented with the historical evidence for the Biblical truth as a foundation for their Christian Ethics classes.
One of the organizers said: "What a perfect fit for our Conference! Nobody can say any more that our moral and ethical claims are unfounded!"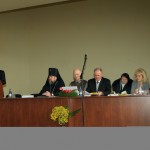 A Public School Superintendent said: "Is there any chance that you could teach this class at our Regional Teachers' Conference? We'll pay your travel, board and a modest honorarium. And we'll make sure all the History Teachers from all public schools in the District attend it."
God willing I will be back in Ukraine some time later this year and will be able to meet their request.