As a new school year begins, so does a new series of my teaching trips to Russia!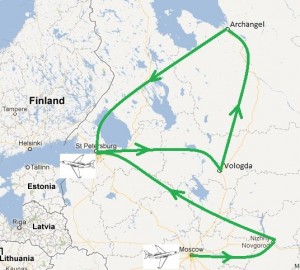 I am leaving for three weeks of teaching the newly updated FaithSearch Discovery curriculum in Moscow, N. Novgorod, St. Petersburg and then even further North to Vologda and to Archangel – home of the Russian Northern Submarine Fleet. The Gospel with Evidence will be presented to hundreds of school teachers and university students, church leaders and, hopefully, Navy officers. Teachers will also be trained in how to teach this curriculum in their classrooms and provided with the tools to do that. Please pray that the assurance in the validity of the Bible and of the historicity of God's incarnation in Christ not only reaches their minds but also touches their hearts.
On this trip I will also be making steps along my Ph.D. dissertation process with the Russian Educational University in Moscow.
Please pray for my safety on the trip and for my family back in MN.