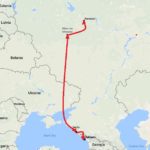 It has been an unusually long (4 months!) gap between my last trip to Russia and this upcoming one. I can't wait to see my audiences – teachers, students, seminarians, general public – again and to present to them my updated version of FaithSearch Discovery with some new materials I just added there! As always, the trip will be about three weeks long and will give me a chance to teach at Bible colleges, churches, public universities and city teachers' training centers.
Hopefully my partnership with Christian organizations will not suffer from the recent and most restrictive law in terms of religious freedoms that was passed in Russia just a couple months ago. In any case, my connections with secular schools and educational institutions in the country should give me plenty of opportunities to continue sharing the Gospel with Evidence all over the place.
Along with Central Russia regions, I will be teaching in Southern Russia (Sochi) and in the Republic of Abkhazia with significant Muslim and native religions presence.
Thank you for your continuing support of my family and my ministry!
(PS. My prior trip entries and photos are being transferred onto a new server and will be available again soon)