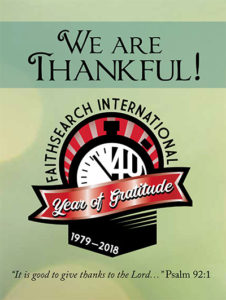 We recently created a brochure highlighting our Year of Gratitude. Each of us was asked to write a few words about why we are thankful to serve with FaithSearch. It was an exciting though challenging opportunity to distill my thoughts: we had a strict word limit.
Here is what I wrote:
I'm grateful to be part of the FaithSearch team since 2001. Recently, I found an old journal from 1977, when I was exploring what to do with my life. I was caught by my use of the word "evidence," especially given what I do today in my Gospel-with-evidence ministry at FaithSearch:
I've always liked to learn. I've been good at formal proof & argument–evidence, etc. … but how–in what capacity–Scripture? Science? How can I best use my mind to glorify God? … I pray for knowledge of & the desire to seek out the way God wants me to go.
That was forty years ago, even as FaithSearch was being born across the country. I studied journalism, worked in television, advertising, computers, Internet, and ministry. Now I am grateful to be here, where all those twists and turns are being used by God at FaithSearch, in answer to my prayers.