Loving God: A Valentine Reflection
A Pharisee asked Jesus, "Master, what are we to consider the greatest commandment?" Without a pause Jesus answered, "You shall love the Lord your God with all your heart, and with all your soul, and with all your mind" (Matthew 22:35-36).
Perhaps everyone worries about this at times. We cannot find any such feeling in ourselves. What are we to do? The answer: Act as if you did! Do not sit trying to manufacture feelings. Ask yourself, "If I were sure that I loved God, what would I do?" When you have found the answer, go and do it. Loving God, then, is not romantic feelings, but a deliberate decision of the will.
As a result, we soon discover that our love for God is demonstrated by the action it prompts. The Bible itself gives a couple of good examples.
We are supposed to love God enough to be obedient.
Jesus was very clear: "If you love Me, you will keep my commandments" (John 14:15; cf. 1 John 5:3). Ask yourself this question, "If I were taken to court to be tried for loving God, would there be enough evidence to convict me?"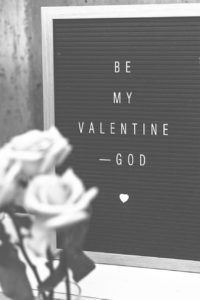 We are also to love God enough to be contented.
The beginning of men's rebellion against God was, and continues to be, the lack of a thankful heart (Romans 1:21). The apostle Paul admonished the church at Ephesus to "always give thanks for all things in the name of our Lord Jesus Christ to God…" (Ephesians 5:20). When we lack proper contentment, either we have forgotten that God is God, or we have ceased to be submissive to Him.
Love must carry with it a "THANK YOU" to God. If the contentment goes and the giving of thanks goes, we are not loving God as we should.
If we practice loving God as a deliberate decision of the will, walking in obedience to His word and with a heart filled with contentment, we will in fact "fall in love with God" as the hymn writer expresses:
Wonderful love that rescued me,
Sunk deep in sin,
Guilty and vile as I could be,
No hope within;
When every ray of light had fled,
O glorious day!
Raising my soul from out the dead,
Love found a way.
Refrain:
Love found a way to redeem
my soul,
Love found a way that could
make me whole;
Love sent my Lord to the cross
of shame,
Love found a way –
O Praise His Holy Name!"
Sources: True Spirituality, Francis A. Schaeffer, p. 9
"Love Found a Way," Avis Marguerite Burgeson Christiansen, 1915, Public Domain