Here's a chance to take advantage of some of what is happening at FaithSearch International.
This FREE Happ-O-getics newsletter of happenings and apologetic evidence is sent six times per year to everyone on our FaithSearch mail list with an E-mail address on record. Pease help us expand its Gospel influence by recommending it to your friends and associates. Registration is available online (www.faithsearch.org/subscribe).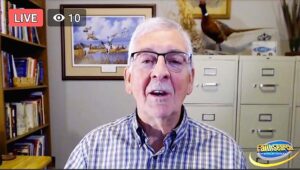 I (Don) LIVE Stream on Facebook® (www.Facebook.com/DrDonBierle)
every Tuesday, 6:00 pm CDT. View past recordings anytime ("videos" tab) or visit: FaithSearch.org/dr-don-live. I am teaching through a series I created called "The Mighty Works of God: Great Moments in History." Join me.

I write the articles for either the Paraclete or Happ-O-getics newsletter every month; prepare the script for the Facebook Live Stream every week; correspond every six weeks with our donors and others on our mail list; and write a thank you every month for everyone who donates. Add all the needed preparation for events, and Vernee says I'm busier than at any previous time in our forty-three-year ministry!

Rick Wattman, our director of communications and publications, just celebrated his twenty-year ministry anniversary with FaithSearch. Congrats! We all appreciate his life-time service to the Lord and all the ways his gifts and skills have enhanced the FaithSearch Gospel with evidence message.

Oleg returned last month from another three-week mission trip to Russia. You can read his interesting report that has been posted on his blog. He left again on September 21, for another three weeks. Since school is again in session, his schedule will focus on evangelism and training to students, teachers, and pastors in public schools, Bible colleges, churches, and seminaries. Pray for Oleg: safety, health, spiritual impact on individuals, and enlightenment for a Christian worldview in their education.
Adrian continues co-hosting with me on Facebook, expanding our social media ministry, updating our Web site, and doing apologetic events. He will be doing an illusion outreach event in Hastings, MN, on December 11. Adrian will be in the Midwest from about December 2-13, and wants to fill his schedule with more events. Call Kristi at 952-401-4501 (T-Th, 9:00-4:30) to discuss scheduling ideas and options.
In God's Classroom: Are you home schooling? Attending a small group? Planning a church education class? Want to grow spiritually? Check out the Bible curriculum offerings of FaithSearch ministry.