Wouldn't it be deeply appealing to spend a night during a trip to Israel in the home where Jesus grew up, like a bed and breakfast inn? That is more fantasy than a real possibility. What is true, however, is that you can actually see the place and part of the structure of His home from over 2,000 years ago!
De Locus Sanctis, a pilgrim account from the seventh century, identified two large churches in the center of Nazareth. The pilgrim states that one of them was built over a spring and the remains of two tombs. Between these two tombs, the account says, was the house where Jesus spent His childhood.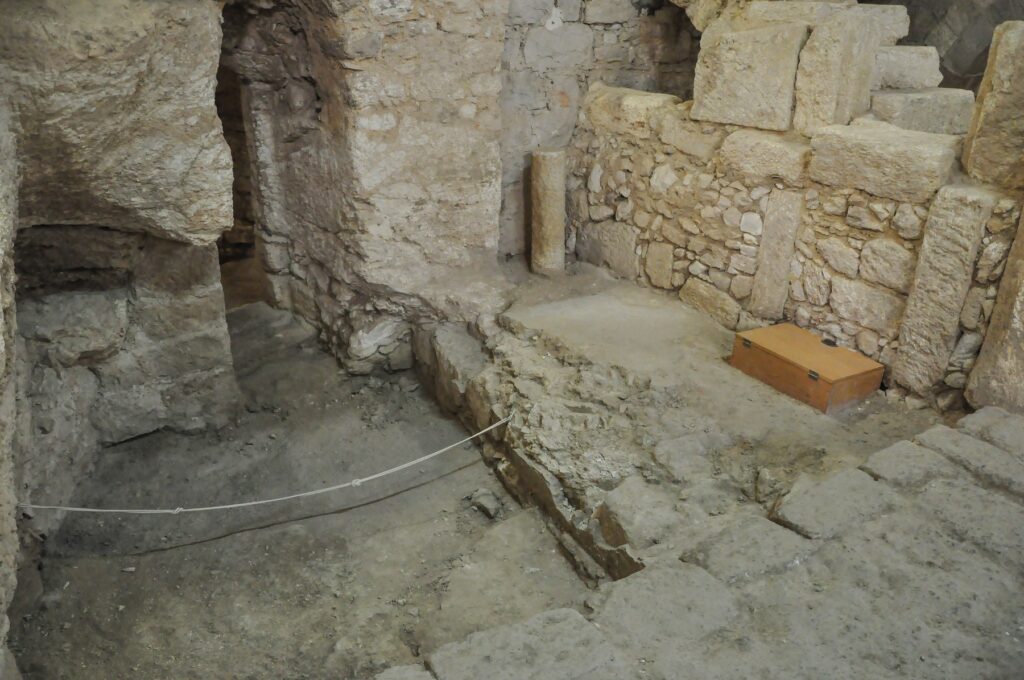 Recent archaeology at the Sisters of Nazareth Convent discovered evidence of a large Byzantine church with a spring and two Early Roman-period tombs in its crypt. A first-century rectilinear house, probably a courtyard house with partly rock-cut and partly stone-built walls, stands between the two tombs – just like the pilgrim account describes. The house was decorated with mosaics during the Byzantine period and were preserved by subsequent construction over the centuries, both suggesting it was revered as special, even holy.
Associated archaeological finds, including cooking pottery and a spindle whorl, suggested domestic occupation at the site. The presence of standard domestic pottery of Roman-period Galilee confirmed its early date, and limestone vessels indicated Jewish inhabitants (limestone is not considered subject to impurity under Jewish law).
The house itself had been constructed by cutting back a limestone hillside to which stone-built walls were added. It consisted of several rooms and conformed to the typical architectural forms of Early Roman-period settlements in the Galilee region. A stairway rose along one of the walls.
Nazareth was a Jewish, provincial small town with a synagogue as described in the Gospels (Matthew 13:54-58) and where you would expect to find rural craftsman like carpenters (Jesus and his father Joseph). But ready to receive the prophesied Messiah who grew up in their midst? Not so much. When Jesus tried to minister there, He was rejected and said, "A prophet is not without honor except in his hometown and among his own relatives and in his own household" (Mark 6:4). Praise God that the Holy Spirit has helped us to see and receive the Savior which they did not!
Source: "Has Jesus' Nazareth House Been Found?" by Ken Dark, Biblical Archaeology Review 41:2, March/April 2015