Description
FaithSearch DISCOVERY
Our flagship presentation for forty years is now available as a CURRICULUM. This package offers excellent and inexpensive apologetic and Bible materials for fall/winter classes, small groups, home school, and personal study. Suitable for evangelism and discipleship.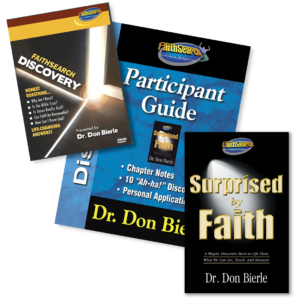 The Curriculum:
The FaithSearch Discovery DVD
FaithSearch now has a complete recording of our popular Discovery presentation—the first updated recording in years. After repeated requests, Dr. Bierle has responded with a new recording of this evidence-based event. The presentation features over one hundred professionally produced PowerPoint® slides to make the material crystal clear. Some of the DVD features include: 
Ten "Ah-ha!" discoveries identify evidence for the existence of God; the eyewitness and historical New Testament records; the claims, miracles and resurrection of Jesus Christ; the key factor of a valid faith; and the way to a personal faith relationship with God.
Extensive Leader's Guide, included on the DVD ROM for more thorough understanding of the material and guidelines for using the DVD for small groups, church education classes, youth, etc.
Fifty relevant questions and answers for discussion, application, and reflection.
A time log for each discovery and the coordination of the ten "Ah-ha!" Discoveries with related tools like our Participant Guide, Study and Discussion Guide, and the Surprised by Faith text.
Length: This is a double DVD of 2 hours and 30 minutes. Either view the entire presentation in one sitting, or select any of the ten discoveries to view and discuss separately.
Appropriate for mature middle schoolers, junior and senior high youth, and adults of all ages.
The RELATED TOOLS
Surprised by Faith text. (Suggested retail $12.99. Our regular price $10.) Detailed resource for topics in FaithSearch Discovery. Nearly 350,000 in print. Common response: "I've never heard this before!"
Participant Guide. (Regular price $5. Sale price $1.) Summary notes for each of the ten "Ah-ha!" Discoveries to enhance attention and understanding of the DVD presentation.
Dr. Bierle comments, "This curriculum is the best representation of the heart of FaithSearch International! It is the 'Gospel with evidence' which our evangelists have presented to a million people during our forty year history, resulting in 72,000 confessions of faith in Jesus. This is critical content for senior high students before they enter college."