This is our latest ministry resource… A Ph.D. scientist and college educator shares the evidence which moved him from belief in random evolutionary events to Intelligent Design by a Creator.
This DVD presentation features Dr. Don Bierle. He holds M.A. and Ph.D. degrees in the life sciences, and an M.A. degree in New Testament studies. As a scientist and former skeptic, Don shares his remarkable journey from skepticism to faith.
Why should YOU believe?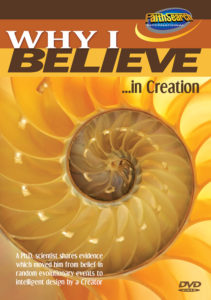 Dr. Bierle's enlightening presentation, including clarifying PowerPoint® slides, uses current biblical and scientific evidence to unravel creation, evolution, and the meaning of life. Stimulating and challenging, "Why I Believe…in Creation" is a valuable resource for students, teachers, pastors, and parents. Explored in this compelling DVD are topics such as:
Understanding Evolution
Understanding a Biblical Worldview
Understanding Creation Views
Understanding Fossils
Understanding Intelligent Design
Understanding Irreducible Complexity
Understanding the Ecstatic Truth
Order yours today. View online at our YouTube channel. Share it with a friend.