HELD OVER THROUGH JUNE!!
As part of our Year of Gratitude, FaithSearch is promoting a different ministry resource each month at a special price.
BOGO: Buy one DVD for $15 and get a second FREE to prepare you for a powerful evidence-based presentation of the existence of God.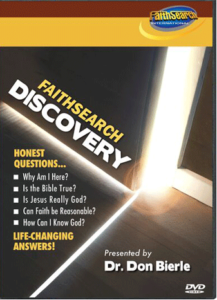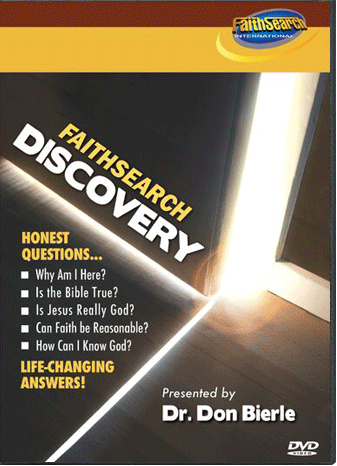 During May AND June, we are featuring the newly-released "FaithSearch Discovery" DVD. Discount applied automatically at checkout when you order two DVDs, so your second copy is FREE.
Just Released! A New DVD of Our Flagship DISCOVERY Presentation 
FaithSearch has not had a complete recording of our popular Discovery series for years. It has been repeatedly requested, and Dr. Bierle has responded with a recording of his presentation using over one hundred professional PowerPoint® slides to make the material crystal clear. 
Over the past forty years, thousands of unbelievers in the U.S. and in countries around the world have responded to the eye-opening manuscript and archaeology evidence of Discovery by committing their lives to follow Jesus Christ. Believers have been encouraged and their faith solidified. Some of the DVD features include: 
Ten "Ah-ha!" Discoveries identify the evidence for the existence of God, the eyewitness and historical New Testament records, the claims, miracles and resurrection of Jesus Christ, the key factor of a valid faith, the stumbling block of the Christian faith for many, and the way to a personal faith relationship with God
The DVD includes a worksheet that reveals the uniqueness of the Christian faith compared to every other religion.
It has an extensive Leader's Guide for more thorough understanding of the material and guidelines for using the DVD for small groups, church education classes, youth, etc.
It includes nearly fifty relevant questions and answers for discussion, as well as application and reflection material.
The Leader's Guide includes a time log for each discovery and coordination of the ten Discoveries with related tools like our 32-page Participant Guide and the Surprised by Faith text.
Dr. Bierle comments: "The content of this DVD is the best representation of the core of FaithSearch International's identity! This is the Gospel with evidence that our evangelists have presented to a million people during our entire forty year history resulting in 72,000 confessions of faith. This BOGO is the best value of all our offers last year or yet to come in 2018!"
FaithSearch Discovery can be used for mature middle schoolers, junior and senior high youth, and adults of all ages. Appropriate for personal study, small groups, a semester church class, and selected individual discoveries for topical focus and discussion. Get it now for a spiritual impact – and save! 
Length: This is a two-layer DVD of 2 hours and 30 minutes. The option is given to view the entire presentation or select any of the ten "Ah-ha!" Discoveries.
*Dr. Bierle, President of FaithSearch International, holds M.A. and Ph.D. degrees in biology, and an M.A. degree in New Testament studies. He has been President and lead evangelist of FaithSearch for its entire 40-year history. In Discovery, Don shares testimony concerning his spiritual journey from scientific skepticism to personal faith in Jesus Christ.