As part of our Year of Gratitude, FaithSearch is promoting a different ministry resource each month at a special price.
BOGO: Buy our flagship combo, Surprised by Faith and its Study and Discussion Guide, for $15 and get a second set FREE! Give these as a gift that keeps on giving – for eternity!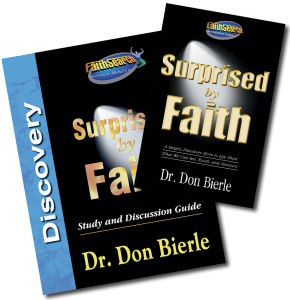 During December, we are featuring the Surprised by Faith with Study and Discussion Guide combo. Discount applied automatically at checkout when you order 2, so your second combo is FREE.
"Dr. Bierle's book transformed my thinking!"
(skeptic who committed his life to Jesus)
Applications: Personal study, small groups, church education classes, home school curriculum, college preparation, youth groups, home and family instruction
Surprised by Faith
350,000 copies distributed
Written by Dr. Don Bierle. He explains why he wrote it: "Growing up in the church, I was told 'what' to believe but not 'why' Christianity is true. I became a skeptic and had no idea the Christian faith could be supported with evidence and reason. Discovering that truth later through the help of Christian friends and committing my life to Jesus Christ, I was determined to help others find the same answers and new life as well. Surprised by Faith has done that for three decades!"
Attractively bound—appropriate as a great gift to youth and adults, believers and unbelievers
Articulate, eye-opening, and illustrated with biblical charts and archeology discoveries.
The book provides evidence and instruction for each of the following:

The existence of God
The integrity and historical truthfulness of the Gospel records
Jesus' claims to be God
The miracles of Jesus
The uniqueness of Christian faith
The one thing that keeps more people from faith than any other
How to become a Christian
SBF Study and Discussion Guide
Over 100-page workbook to accompany Surprised by Faith and your Bible. It guides you to deeper discoveries about God, the New Testament, Jesus, faith, and salvation.
Additional charts which complement Surprised by Faith
Answers to fill-in questions are included at the end of each chapter
Bierle included thirty-six of the most significant (and often difficult) questions he has been asked by attendees—and his answers.
*Author Dr. Bierle, President of FaithSearch International, holds M.A. and Ph.D. degrees in biology, and an M.A. degree in New Testament studies. As a former skeptic, Don knows what it takes to make sense of the Christian faith to unbelievers.