As part of our Year of Gratitude, FaithSearch is promoting a different ministry resource each month at a special price.
BOGO: Buy one DVD for $10 and get a second FREE to prepare you for a powerful evidence-based presentation of the existence of God.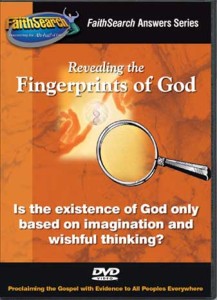 During April, we are featuring the "Revealing the Fingerprints of God" DVD. Discount applied automatically at checkout when you order two DVDs, so your second copy is FREE.
This DVD is one of the first and most-enduring of Dr. Bierle's recordings. It is a clear presentation of three ways God has left his fingerprints for all the world to see and understand. It will strengthen the faith and witness of believers, and challenge unbelievers with facts that are hard to deny.
Evidence of God's Fingerprints in Nature: Intelligent design
Evidence of God's Fingerprints in History: Eyewitness, historical testimony about Jesus
Evidence of God's Fingerprints in Transformed Lives
Nearly 40 minutes with PowerPoint® slides for ease in understanding. For junior high through senior adults.
Dr. Bierle comments: "This is one of the most frequently requested messages I give. Many have commented that it was one of the most stimulating and eye-opening presentations on evidence they had ever heard. My prayer is that you will view it and then share it with someone who is struggling to know why they should believe in God. It may change their life, too!"
*Dr. Bierle, President of FaithSearch International, holds M.A. and Ph.D. degrees in biology, and an M.A. degree in New Testament studies. As a former skeptic, Don knows what it takes to make sense of the Christian faith to unbelievers.