Christmas Gifts that Last Forever!
As part of our Year of Gratitude, FaithSearch is promoting a different ministry resource each month at a special price.
BOGOs – gifts that keep on giving for eternity!
Consider this a partnership: Help FaithSearch share the Gospel while you encourage someone you care about with a faith-strengthening book or DVD this Christmas. Here are some special offers that will look great under your Christmas tree.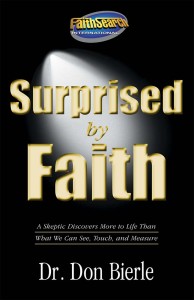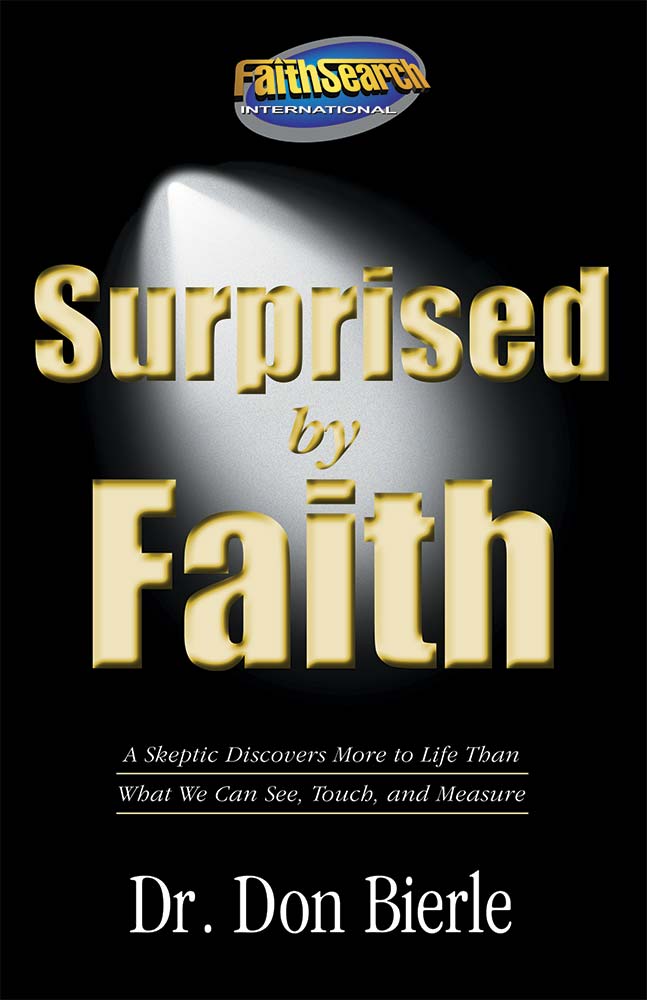 Surprised by Faith book
More than 350,000 copies distributed in sixteen languages
Attractively bound – appropriate for a great gift to youth and adults, believers and unbelievers
Articulate, eye-opening, and illustrated with biblical charts and archeology discoveries.
The book provides external evidence and biblical instruction for the existence of God, the truthfulness of the Gospel records, Jesus' claims to be God, the uniqueness of the Christian faith, and how to become a Christian.
Written by Dr. Don Bierle.* He explains why he wrote it:
Growing up in the church I was told "what" to believe but not "why" Christianity was true. I became a skeptic and had no idea the Christian faith could be supported with evidence and reason. Discovering those answers later through the help of Christian friends and committing my life to Jesus Christ, I was determined to help others find the same answers and new life as well. [My book] Surprised by Faith has done that for three decades!
BOGO: Buy

one

copy of our flagship Surprised by Faith book for $10 and get a second

one FREE

to give away.
Better than BOGO:

 

Buy

two

Surprised by Faith books and get

three more FREE

!
Better than Better than BOGO: Buy

three

Surprised by Faith books and get

five more FREE

!
Presentation DVDs
All have been recorded by Dr. Bierle and published in the past year.

 

All include PowerPoint® illustrations to make the presentation easy to understand.
All include a Leader's Guide for use in home school instruction and small groups/classes. Includes discussion questions and thorough answers.

 

All attractively packaged to be suitable as gifts.
Three ways to save:
BOGO: Buy

one

copy of our new flagship FaithSearch Discovery DVD for $15 and get a second

one FREE

to give away.
BOGO:  Buy

one

copy of our new "Why I Believe… in Creation" DVD for $10 and get a second

one FREE

to give away.
BOGO: Buy

one

copy of our new

"Why I Believe… in God"

DVD for $10 and get a second

one FREE

to give away.
Applications: Personal study, small groups, church education classes, home school curriculum, college preparation, youth groups, home and family instruction. Leader's Guides included. 
Multiple quantities of each offer approved. All offers will add P&H.
*Dr. Bierle, President of FaithSearch International, holds M.A. and Ph.D. degrees in biology, and an M.A. degree in New Testament studies. As a former skeptic, Don knows what it takes to make sense of the Christian faith to unbelievers, and how to strengthen the faith of believers.
** TERMS AND CONDITIONS: The "Better than BOGO" offer may not be combined with other offers or discounts. Limited to quantities on hand. You pay shipping and handling, or pick up purchases at our office.