As part of our Year of Gratitude, FaithSearch is promoting a different ministry resource each month at a special price.
BOGO: Buy one for $10 and get a second FREE to share with a friend, a school, or your church library!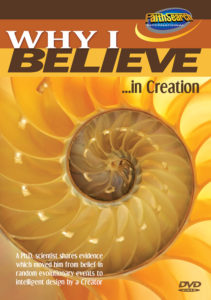 During October, we are featuring Why I Believe… in Creation, our latest DVD release. Discount applied automatically at checkout when you order 2, so your second copy is FREE.
Presenter Dr. Don Bierle* taught biology and advanced life science courses at the college and university level for nearly twenty years.
Bierle shares his own struggle regarding creation and evolution: "After becoming a Christian I accepted everything in the Bible as true–except the creation account in Genesis 1. Ultimately, the scientific evidence itself became so persuasive that it led me to affirm God's creation of the universe and life."
This is an enlightening and challenging presentation, using current biblical and scientific evidence, and is illustrated with excellent PowerPoint® slides.
Topics include:
Intelligent design and irreducible complexity
Creation views: Gap theory, theistic evolution, day-age, and more
Fossil evidence
Two meanings of evolution
Understanding a Biblical Worldview
Creation as evidence for God
Suggested uses:
Personal/family viewing and study
Women's/men's small groups
Youth and adult education
Home school instruction
Bible school supplement
DVD in album case, NTSC widescreen, color, approx. 117 minutes. Seven major topics presented in three sections. Leader's Guide in preparation.
*Dr. Bierle, President of FaithSearch International, holds M.A. and Ph.D. degrees in biology, and an M.A. degree in New Testament studies. As a scientist and former skeptic, Don shares evidence which moved him from belief in random evolutionary events to intelligent design by a Creator.