As part of our Year of Gratitude, FaithSearch is promoting a different ministry resource each month at a special price.
BOGO: Buy one pack of 25 for $7 and get a second FREE to complete your Easter greetings, to use in Lent and Easter witnessing, or distribute them to guests at Easter or sunrise services!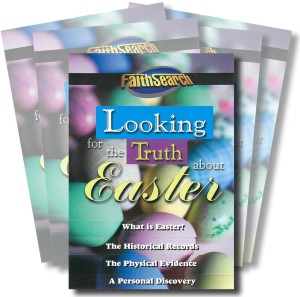 During February, we are featuring the "Looking for the Truth about Easter (25 pack)" PocketGuide. Discount applied automatically at checkout when you order two 25-packs, so your second copy is FREE.
Looking for the Truth about Easter (25 pack)
Attractive, colorful, articulate, personable and illustrated.
It's a PocketGuide—fits easily in a pocket or purse for convenience to share whenever and wherever you need it. Panels flip up to progressively reveal the truth.
Not a tract, but an Easter apologetic of the Gospel for believers and unbelievers alike. Includes external evidence, an Easter greeting, a prayer of commitment, and the next step for growth.
Written by Dr. Don Bierle, with manuscript and archaeological evidence from his book, Surprised by Faith
Dr. Bierle shared why he wrote this: "Easter celebrates one of the two most important events ever on planet earth! Even Christians often celebrate it as a tradition rather than because it is true. I wrote this PocketGuide both for believers and unbelievers, so they would know there is evidence for the resurrection of Jesus, and be assured of their own life after death as well."
Topics include:

What is Easter?
The Historical Records
The Physical Evidence
A Personal Discovery
Taking the Next Step
*Dr. Bierle, President of FaithSearch International, holds M.A. and Ph.D. degrees in biology, and an M.A. degree in New Testament studies. As a former skeptic, Don knows what it takes to make sense of the Christian faith to unbelievers. As a former college professor, he has mastery of the subject matter and knows how to make the Christian faith interesting and applicable to a Christian's life.