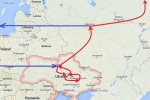 Some may say: bad timing – look what is going on in Ukraine! To this I will repeat the words of an Evangelical pastor in North Osetia six years ago when the war broke there on the next day after my arrival and I expressed my concerns about, yes, timing: "We need to hear this affirmation of our faith today. We need to be reminded that our faith stands not on our emotions and traditions, but on the unshakable facts of the Bible. These high emotions will come and will go. These tough times will also pass. The historical, factual foundation of our faith is what will keep it strong."
I believe in God's perfect timing. As always, my own part is rather simple – to show up. He will bring the audiences and He will give me the words for them – in Kiev, in Komsomolsk, in Dnepropetrovsk, in Cherkassy, in Moscow and in Kirov.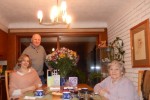 Please pray for His perfect will to be done in Ukraine as it is in Heaven. Please also remember me as I travel and for my family back home while I am away. One specific prayer request: for the Russian bureaucracy to eventually release my PhD Diploma without taking too much of my time and energy in Moscow.