FaithSearch International celebrates over forty years of proclaiming the Gospel with evidence to all peoples everywhere.
Thank you for considering being a prayer and financial supporter of FaithSearch. Together we are extending the Gospel with evidence to thousands of people each month. Pray with us for many whose lives are being changed for eternity as a result.
Be sure to check out the latest Paraclete issue of 2021. In the final part of my series on "Faith: Threatening Extinction" I look at three transformations in my thinking which resulted from putting my faith in Jesus. I pray it will encourage your faith as well.
Summer: Without a Pause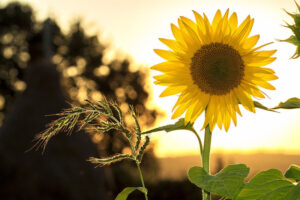 It is customary to think of the summer as a "time out," vacation time, and a slow down. Not so with the first century church. The resurrection of Jesus was fresh on the disciples' minds. Then the powerful May Pentecost Holy Spirit event propelled them into the following summer to proclaim Him near and far.
Likewise with FaithSearch International. In-person ministry is opening up. I already have six major events scheduled; Oleg and Yuri will be ministering in Russia again; Adrian and I will co-host a weekly summer series on Facebook® called "In the Footsteps of Jesus" – recounting highlights from His ministry as recorded in the four Gospels. In addition, there are media interviews, monthly Paraclete or Happ-O-getics newsletters, the creation of new outreach strategies, and the encouragement of men and women to become new associate presenters with FaithSearch.
Why are we keeping busy like this? Because just before Jesus ascended to heaven He said, "You are witnesses of these things" (Luke 24:49). We want to be part of fulfilling the heart of Jesus until He comes again. Your gifts and prayers make this possible.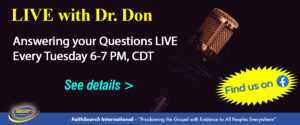 It's working! Our director of communications, Rick Wattman, just gave me a report for the first quarter. Our Web site page views (7,006) are up 50%; visitor sessions (4,084) up 132%; views of our videos (496) are up 64%; visitors 18-24 years of age are up 86%; and my Facebook livestream had 975 minutes viewed with an average viewing time of 7.35 minutes. We are praising God for our witness to these thousands of people online.
"Jesus Christ is the same yesterday and today, yes and forever."
The writer of Hebrews had just recounted example after example of "heroes" of faith in chapter eleven. He followed that in chapter twelve with this admonition: "Therefore, since we are surrounded by such a great a cloud of witnesses, let us throw off everything that hinders us and the sin that so easily entangles, and let us run with perseverance the race marked out for us. Let us fix our eyes on Jesus, the Pioneer and the Perfecter of our faith…" (Hebrews 12:1-2 NIV).
Finally, in chapter thirteen (v.7) we are to "imitate their faith" because Jesus is the same yesterday, today, and forever (v.8). We are to "praise" God, give "thanks" to His name, and "not neglect doing good and sharing…" – all of which pleases God (vv.15-16).
Sharing
People are excited to be socially active again outside this summer. What a great opportunity for sharing our faith. I want to help. Let's keep it simple, but effective. I have written a PocketGuide and a booklet, both easy to give away with an attractive apologetic presentation of the Good News:
Discovering the Truth about Jesus the Christ – small, colorful, and convenient, covering "Who is Jesus," "The Historical Records," "The Eyewitness Evidence," and an invitation to follow Jesus. (25-pack)
Without Excuse: The Evidence for God – colorfully illustrated booklet, covering three external evidences to support belief in God's existence – from nature, history, and changed lives. (6-pack)
I want to give you one of these packs FREE with your gift in June – your choice. Give your family, friends, neighbors, and work associates a basis for hope now and forever. Start a conversation with them, and then be ready with your testimony of salvation. The FaithSearch staff will be praying for you at our Wednesday morning prayer times. Let us know about your sharing experiences.
"To Him be the glory, both now and to the day of eternity" (2 Peter 3:18).
---
There are many ways you can direct your investment to support Gospel evidence ministries through FaithSearch. (READ our Board of Directors Policy on Donated Funds.)
1. Support one of our team members who make this ministry possible.
The FaithSearch departmental leadership is comprised of veteran professionals who have chosen to forsake personal ambition and invest their skills and lives for the sake of the Gospel of Jesus Christ. By raising their own support and living a sacrificial lifestyle, more of the ministry's resources can go directly to the mission field.
or
2. Support a ministry project by clicking "Give a gift" below, or
3. Support the general monthly operating needs of FaithSearch by clicking "Give a gift" below.
---
Please enjoy this introduction to our ministry (video to right) Dr. Don Bierle, president of FaithSearch International, featuring some of our staff.
---
Support FaithSearch International Projects!