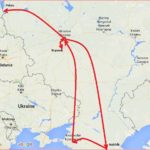 I am only an hour away from departing for Russia and my trip schedule is still "work in progress." They have just canceled one of my public school presentations due to a school closure because of a terrible gripe epidemic in their region. Two minutes later an e-mail arrive from the same city – an Orthodox church wants me to present for their youth. These are very possibly going to be the same kids I will miss due to the gripe cancelation. If God wants them to hear the message, they will.
One more high school principal just learned about my visit to their town from his daughter who attended my presentations last year in Moscow and opens his classrooms for our ministry. I just need to tweak my schedule a little bit and squeeze this one more seminar right between a teachers' training and a church youth group meeting. Not a problem. Flexibility is my middle name (Russians usually do not have them).
This trip will require lots of it. I will be moving from city to city and from town to town pretty much every other day teaching in schools, training public teachers, church leaders and speaking at open public arenas (museums, libraries, etc.). Geography will be rather simple: two weeks of travelling on overnight trains back and forth from Moscow (to Pskov, Kolomna and Bransk) and then one week of travelling in a car from place to place in Sothern Russia.
Please keep me in your prayers!