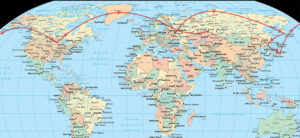 This upcoming teaching trip will be very different from any other I have done before. First of all, it will be to a different country than the one I left in April of this year. Politically our two countries are now moving in exactly the opposite directions from where they seemed to be going only six months ago. There was so much hope and almost an expectation that the sanctions soon would be lifted, and that we would become good trade partners again. I am prepared to face some difficult questions from my audiences.
Secondly, I will not be traveling all alone. For the first week, a ministry partner from Grace Church will come along to teach in churches and (hopefully) in schools in Omsk and Bryansk. She will then take a train for Karelia while I will dive into a four-day in-depth course on Biblical History and Archeology at the World Of Life Church school in Moscow.
Thirdly, for my last week I will travel to the farthest point on the Russian map I have ever been before – to Kamchatka. I hope that teaching in their schools, churches… and prisons will leave me with some time to enjoy the natural wonders of this absolutely unique place on the planet.
I will then keep going East and will arrive to the USA from the other end – taking the Gospel With Evidence message all around the globe. Literally.
Thank you to all of you who contributed to this trip – in prayer and financially!