I am leaving for my next three weeks in Russia on December 1st and will be back right before Christmas. My destination this time is the Russian Far East, which means I will be flying West all the way across the Pacific Ocean. with a change of planes in Japan. I will be crossing only (!) seven time zones vs. seventeen time zones if I were to fly over the Atlantic and then across all Europe and all Asia. I am already getting a little lightheaded even from merely listing all these locations, directions, and destinations!
Hopefully, my teaching schedule will be dense eno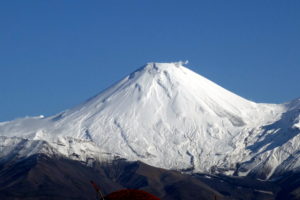 ugh for me to keep my feet firmly on the ground, my mind busy, and my body warm in these fairly cold and icy lands. I am relying on my local ministry partners this time even more than I usually do because of the great distances to and around this vast geographical area. Unfortunately, being true Russians, they are not giving me a solid schedule for each day of the trip. All I have is their assurance that they will not allow me to sit idle; and that Russia's Far East Ministry of Education is not paying for my plane tickets for nothing; and and that they will squeeze everything they can from the visit of such an "important foreign dignitary as Dr. Voskresensky."
All I know for sure is that I am scheduled to deliver a paper on Christian Education in Public Schools; and to speak on a number of panels a the Regional Education Conference called Rozhdestvenskie Chteniya ("Christmas/Nativity Readings") in Kamchatka; and to teach classes at Catechism schools and Seminaries in Sakhalin and in Khabarovsk – for roughly one week at each of these locations.
All I need to remember is that the Lord will provide numerous opportunities for me to share my faith and to present the Gospel with Evidence just as long as I am open to them and make myself available to Him. That has been my experience in the past, and I am looking forward to seeing how the Lord will use me this time. I will appreciate your prayers to that end.