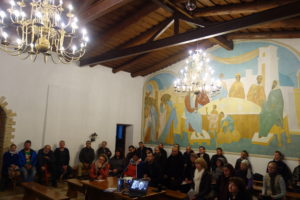 No time for jetlag! I started my first FaithSearch Discovery presentation only four hours after landing in Moscow. Needless to say, I was dead tired afterwards, and immediately fell asleep in the car that drove me to my place of rest. I still feel sorry for the driver who was trying to keep me awake by his stories and inquiries – I was only able to nod in agreement.
Most of my days in Moscow on the first week consisted of a couple-of-hours-long train ride to Kolomna, Dmirov, Chekhov, or some other town within a 100 km radius of the city;  a three-to-four-hour-long presentation; and then train ride back. The fall colors were streaming in front of my window from left to right, and then from right to left. My hosts would usually meet me at the station, take me to a café for lunch, and then bring me to the "House of Culture" or a conference hall right before the presentation.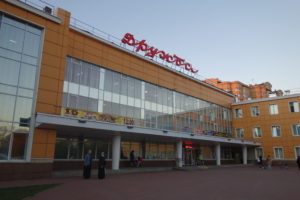 They showed their hospitality by trying to put me on the earliest train back to Moscow straight from the event. The assumption was always that there is not much to see in their small town and that I would rather spend the evening in Moscow. Only once was I able to arrive to their place (Dmitrov) early and to enjoy walking the old streets and to do some sightseeing on my own before they plugged me into their program.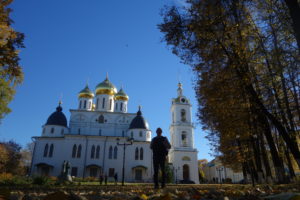 So far my audiences in Moscow have been mostly seminarians, clergy, and lay leaders. Thanks to the Moscow Region (oblast) Orthodox Church networking, I was speaking at their deanery conferences almost every day.
I am in St. Petersburg now and my days are mostly devoted to training school teachers as I am catching them on their fall school break. In both cities, the weather has been very unusual for this time of year – sunny and warm! The windows in my classrooms are usually open wide and I've just made a notice that instead of the crows and pigeons of Moscow, I see and hear seagulls under the skies of St. Petersburg. Three more days in St. Pete and I off for Murmansk with its Arctic climate and natural habitat. What kind of birds do they have over there?