Voronezh is where Peter the Great built his fleet for the Azov Sea campaign. It could have been one of most picturesque cities of Central Russia if it were not nearly leveled during the battles for the Southern approaches to Moscow during the World War II. As with most old Russian cities, it is struggling now to save and to restore what is left of its history and tradition.
The Mitrofanovskie Chtenia conference this year was mostly devoted to history and my topic – the Historic Foundations of Christian Faith – was welcomed by both church and secular audiences. They scheduled two events every day and always had a "bonus" one for me as the day progressed and I didn't look to them especially tired. I was only happy to oblige and quickly learned to put a sandwich or a snack into my pocket at lunch to serve me as a supper meal back in my dorm room late at night.
It was a whole different story in Smolensk! First, I stayed in the home of a foster family of… 11 or 13 children, aged 2 through 26. I cannot possibly remember their names and ages even after staying with them for three nights and sharing many meals and stories around the table. I also did a presentation right in their living-room for the family and their friends. Oksana and Misha adopted several kids from nearby orphanages and took me there for training sessions for teachers and lessons for kids. I had to completely review and revise my whole presentation for my class at the orphanage for disabled and visually impaired children – a new challenge I had to meet and be prepared for. Speaking clearly, in short and simple sentences, while describing rather complex realities of ancient history and modern historic science was not easy, but my efforts seemed to have paid off – the kids loved it and answered all my questions at the end of the class. Two little girls came up to me afterwards and asked me to show them the slide they were unable to see well on the screen – the second century copy of Mark's Gospel hidden inside the papier-matcher burial mask.
I also had a chance to teach at the local Orthodox Seminary; to present at two Baptist churches; and in a technical college; switching from one presentation style and format to another and adjusting my voice level from a lecture auditorium to a living room or a worship hall.
So far, I have not missed one day of teaching for travel by always moving to the next venue on overnight trains and red-eye flights. I spent many hours on scheduling all these routes and connections, but reality makes its own corrections to my planning. As the old jokes goes: "Want to make God laugh? Show Him your itinerary." According to my most profound travel schedule, I was supposed to make a nice circular route from St. Petersburg to Volgograd, to Voronezh, to Smolensk, and back to St. Petersburg. Well, I am back in St. Pete right now and here's how my travel path actually turned out.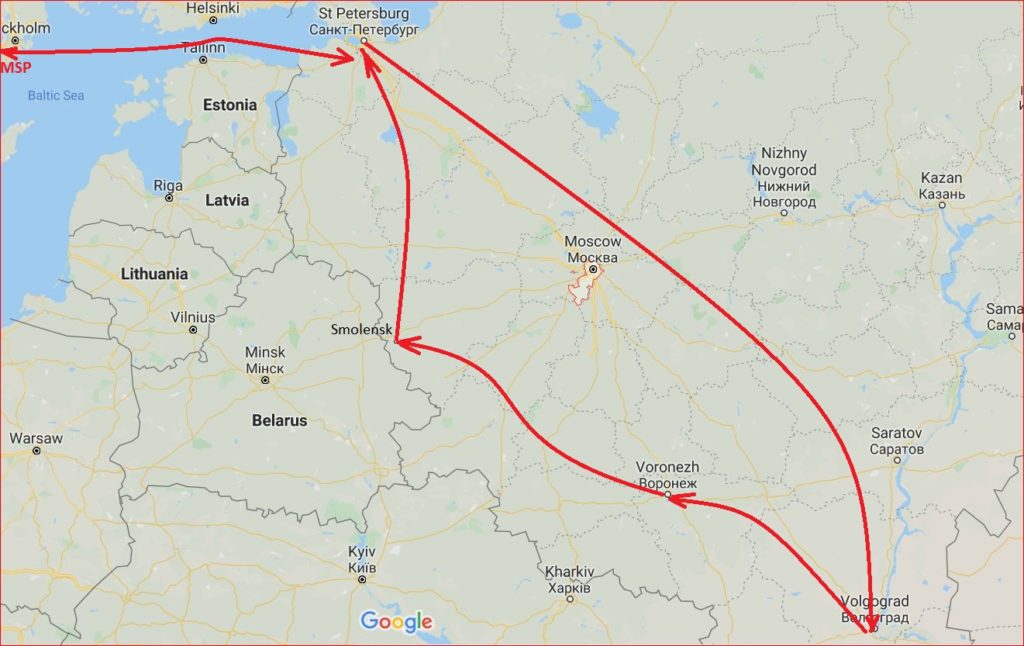 I had to change trains and planes in Moscow three times (with 2 hours, 90 min., and even 45 min. transfers) without ever seeing the city. Apparently, my suitcase got so tired of being dragged behind me through all these places that on the last lag of my travel (DME-LED) it decided to abandon its owner, to stay behind and to take its sweet time in Moscow. However, the Ural Airlines delivered it to my dorm in St. Pete later that same day. No hard feelings.