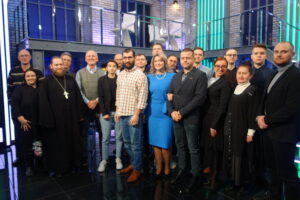 First, the highlight. A handsome young man (second from the right) approached me after my presentation on the local TV station:
My mother sent me to your event this afternoon just to say thank you for saving her life. All I know is that many years ago, she watched your presentation online. After attending this event, I also want to say thank you – for saving my mom's life… and for changing mine.
He turned around and walked out the door before I fully realized what he had just said. I am praising the Lord for these lives that were touched and impacted by His Truth and thanking Him for sending me this angel with the message of encouragement and inspiration for the future.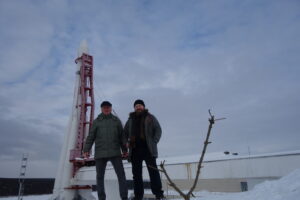 After a day of relatively easy classes in Moscow (Christian teachers' audience), I spent almost a week of presenting to a wide variety of audiences and in a variety of formats in Kaluga: Sunday school class; public TV show; Franciscan monastic community; international academic conference; etc. The quarantines are still rather strict, but the Lord graciously provides opportunities to conduct presentations in spacious and well-ventilated auditoriums. My host family in Kaluga got cold symptoms on day two, so I had to be extra careful not to catch it from them. I am writing this note on the train back to Moscow, still feeling healthy and praying for these dear people's full and quick recovery.…
A quick note after my arriving and presenting in Obninsk: A man in his 40s said to me, "I am making my first steps of living by faith. You gave me today what I needed so much – confidence in the path I have chosen." I am sure I saw tears in his eyes.
This evidence of the Lord working in the lives of my audiences keeps me going and encourages my heart greatly. Thank you for your prayers!