A Christmas Memory Became a Tradition
By Kristi Wanamaker, Director of Event Management
[Jesus] came to a village where a woman named Martha opened her home to him. She had a sister called Mary, who sat at the Lord's feet listening to what he said. But Martha was distracted by all the preparations that had to be made. She came to him and asked, "Lord, don't you care that my sister has left me to do the work by myself? Tell her to help me!" "Martha, Martha," the Lord answered, "you are worried and upset about many things, but few things are needed—or indeed only one. Mary has chosen what is better, and it will not be taken away from her.

Luke 10: 38-42
To a clergy family, Christmas–though special–is also very busy and very scheduled.
When my husband retired from parish ministry, Christmas was a whole new experience for our family. Yes, we had less on our schedule, but like everyone else, schedules were still something we had to work around.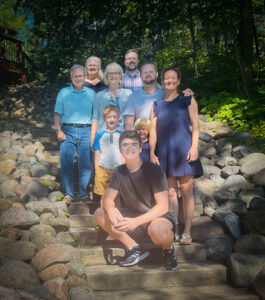 Twelve years ago, there was a Christmas Eve snowstorm which prevented us from attending a favorite candlelight service. Little did we know that this storm would begin a new tradition for our family.
Since we were snowed in, we slowed down and prepared our own worship time. With timing and schedules removed, we worshiped deeper, did a study, talked more, and then had communion together. What a beautiful way to celebrate Christ's birthday.
When the candlelight service returned the following year, we took time to repeat our new family tradition.
Our blessings from the snowy Christmas Eve didn't end there. At that time we were all part of a very large congregation. Regular attenders were asked to consider worshiping at a different date or time than on Christmas Eve, to make room for visitors. They offered a multitude of alternatives, so we said "sure."
Now here's the interesting thing. We were already prepared for Christmas Eve at home. We were already primed to slow down and take time and enjoy in-depth sharing, devotions, worship… and yes, communion. Little did we know that the snowstorm which interrupted our traditional celebration, had started our new tradition, which would be established for the years ahead. We learned to slow down, sit at the feet of Jesus, and enjoy the birthday of our Lord.
When they had seen him, they spread the word concerning what had been told them about this child, and all who heard it were amazed ….

Luke 2:17-18