Cursed but with a Glorious Promise
The earth was cursed by God because of the disobedience of Adam and Eve (Genesis 3:17). The comprehensiveness of this curse is stated by the apostle Paul: 
For the creation was subjected to futility, not of its own will, but because of Him who subjected it, in hope that the creation itself also will be set free from its slavery to corruption… For we know that the whole creation groans and suffers the pains of childbirth together until now (Romans 8:20-22).
In other words, the ecology of life on our planet today is not the way God created it (He had declared His creation "very good" in Genesis 1:31).
Just like man must work hard to make ends meet, the plants and animals now must have defenses to survive. They use toxins, fangs, camouflage, sharp spikes, slime, armor, and "playing" dead.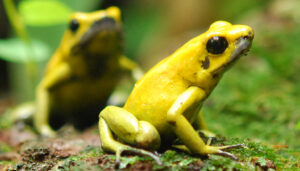 For example, one gram (equivalent to a small raisin) of the poison of the golden poison dart frog can kill up to 15,000 people.
Other examples include:
Vultures project vomit onto predators ten feet away.
Some porcupines grow pointy quills up to thirteen inches long.
One tiger pufferfish has enough toxin to kill thirty people.
Octopuses release large clouds of ink to hide their escape.
The western hognose snake mimics a rattlesnake to deter potential threats, and if that doesn't work, they flip upside down and play dead.
Fortunately for the earth and its creatures, the day is coming when God will initiate a new heaven and earth without tears, pain, or death (Revelation 21:1-4). There shall no longer be any curse (22:3). Isaiah the prophet said
The wolf will live with the lamb, the leopard will lie down with the goat, the calf and the lion and the yearling together, and a little child shall lead them. The cow will feed with the bear, their young will lie down together, and the lion will eat straw like the ox. The infant will play near the hole of the cobra, and the young child will put his hand into the viper's nest. They will neither harm nor destroy on all my holy mountain, for the earth will be full of the knowledge of the Lord… (Isaiah 11:6-9 NIV).
We have reason to hope. "He who testifies to these things says, 'Yes, I am coming quickly.' Amen, Come, Lord Jesus" (Revelation 22:20). Be encouraged! Persevere!
Source: "Poison, Spikes and Goo," Answers in Genesis, April-June, 2022, pp. 10-14.