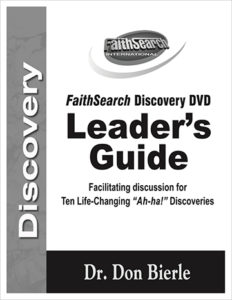 FaithSearch offers a FREE Leader's Guide to accompany the FaithSearch Discovery DVD. The DVD breaks the presentation into ten sessions, and the Leader's Guide is a valuable resource for facilitating discussion in a small group or classroom setting.
Download the FaithSearch Discovery DVD Leader's Guide
FaithSearch also provides the FREE FaithSearch Discovery Leader's Manual and related event resources in PDF format below. To purchase a printed copy, please visit our online store. The Leader's Manual provides an answer key for the Surprised by Faith Study and Discussion Guide, as well as teaching helps for the teacher or facilitator of the FaithSearch Discovery presentation.
The FaithSearch Discovery Leader's Manual chapter 00 includes a valuable and helpful overview of the material, and how to utilize FaithSearch Discovery and the Surprised by Faith book in your ministry. We recommend that you study this chapter carefully before beginning. Each subsequent chapter provides details for each of the ten "Ah-ha!" discoveries in the presentation, and ties them to the material in the text.
With the publication of the third edition of Surprised by Faith, page numbers referred to in each chapter of the Leader's Manual have changed. The new reference page numbers are available in the Page Coordination PDF, at the end.
The FaithSearch Discovery Notes (with and without answers) may be copied and distributed for each participant in the discussion/presentation. It is built around key points of evidence in each of the ten "Ah-ha!" discoveries in the presentation.