This FREE Happ-O-getics newsletter of happenings and apologetic evidence is sent six times per year to everyone on our FaithSearch mail list with an E-mail address on record. Share it with friends and encourage them to sign up online for their own copy at
(www.faithsearch.org/subscribe).

Have you heard? The FREE online Bible Learning Center (BLC) is open (www.faithsearchlearning.org)! Our flagship Discovery course is ready. Take it for the first time or experience an updated refresher of the evidence for God, Jesus Christ, the New Testament, and saving faith. Get a free copy of Surprised by Faith and the Participant Guide when you register. Easy to navigate online. The course includes my teaching on video, discussion questions, and applications. Use it for your home group or church class. No cost! Check it out.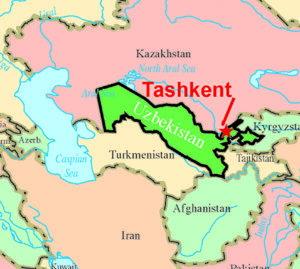 Oleg will be serving for several weeks in Uzbekistan with ELIC (English Language in China). As an ELIC teacher he will teach English as a second language at a summer language camp in Tashkent, the capital of Uzbekistan. He will work closely with the camp participants, building personal relationships and sharing his life with them. He will also be teaching other classes in churches, home groups, schools, etc.
Thank you for your prayers for Curt (Julie's husband) and Vernee (my wife of sixty-one years). Both have had one or more of the usual treatments for cancer: surgery, chemo, and radiation. Both are healing and praising God for a positive future. Keep holding them up in prayer.
There is a possibility of re-energizing our previous ministry in India through the BLC courses. An India Campus Crusade staff member whom I trained in Discovery 15-20 years ago is still active and desirous of using my courses on the BLC for training pastors. The BLC may also open ministry doors again in the Philippines and other countries around the world.