After months of praying, planning, and vision casting, the inaugural Operation Armor events are in the books. Our host for these first-ever FaithSearch events was Oak Grove Baptist Church in Golden Valley, MN.
The youth ministry staff at Oak Grove love their kids. They also have a passion to ensure that they are firmly rooted in the Christian faith–and equipped with objective evidence for why it is reasonable and reliable–before they go off to college.  This is exactly the mission for Operation Armor (OA) and guides our search for event partners. OA has been developed to equip today's young people to be able to "Defend your Faith with Honor."
As we expected, the crowds were rather small, 10-15 kids ages 10-20, each of the four days. After all, this is the season of sunshine in Minnesota. Nonetheless, the kids were engaged and participated with enthusiasm.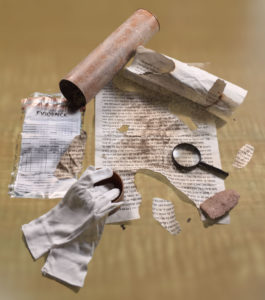 Along with explorations related to the meaning and purpose of life, the fingerprints of God, the reliability of Scripture and the deity of Christ, we had breakout sessions where we helped these young people understand the point of the presentations with hands-on "lab" experiences.
Some of the lab exercises consisted of: analyzing "ancient" manuscripts; writing with the tools of an ancient scribe; and studying "ancient" Egyptian head masks (in the real world, these have proven to be a source of ancient manuscript fragments that are used as filler when they are discarded). These and other methods are designed to help young people gain an intimate understanding of the process and reality of physical evidence for the Gospel.
On one of the days, just before we were going to discuss the reliability of the Bible, a young man shared that he had decided to come at the last minute with a young lady who is an Oak Grove regular. He quietly said he was 20 years old and visiting from St.Louis.
He also shared that he is not a Christian, and that he did not believe the Bible can be trusted as a reliable historical document. At the end of the presentation, he spoke up again saying that, based on what he had heard that day, he would be reconsidering his position on the Bible.
We have found this to be the case for so many people, that if they only heard the evidence for the reliability of the Bible, the existence of God, the deity of Christ… that many of their misconceptions and misguided conclusions would be left by the side of the road in favor of heading in the direction of truth.
Thank you Oak Grove for your willingness to partner with FaithSearch and Operation Armor in the grand endeavor of inspiring future generations to see and know that the Christian beliefs, worldview, and Scriptures stand the test of scrutiny and can be completely trusted.