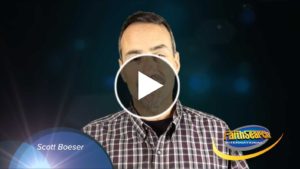 Do all the major religions of the world believe in the same God? Watch this episode of "Amazing Discoveries" to see where the evidence leads.
The question of the day is a topic which has been discussed for centuries but in recent times more hotly debated. Why is that? Have you noticed that our society and culture in recent years is moving toward a more global society? If you are less than thirty years old, you may not be aware of this titanic shift which is evolving every day.
Thanks to the advancement of global travel and the Internet, our world is "shrinking" and we are finding out that we are really not much different from people of other cultures and languages. Could it be that our vast human similarities point to a common origin? Perhaps a belief in a common Creator is not too difficult to accept.
The real challenge seems to be more about who this Supreme Being is and what is its nature or character. While most of the world's people groups find agreement on issues like the virtues of compassion, respect, and the pursuit of meaning and purpose, there is very little common ground on the identity of the Creator of the universe.
Among people who accept that some sort of supernatural reality exists we see two main groups: One group believes that regardless of what spiritual road you travel, your soul will arrive in the full presence of God when all is said and done. The other group says that it matters very much what you believe about who God is because in the end only one road leads to the pure presence of God.
Among people who do not accept that a supernatural reality exists, there seems to be a reliance mostly on internal thoughts and understanding as evidence for the truth. My question for this group is, "Does the limited scope of such a search really lead to that which constitutes truth?"
What do you believe about God? Where does your belief come from? One thing seems clear to me: The answers to these questions cannot be acquired from an internal search alone. In other words, the search for truth about God must also involve evidence which exists outside our own thoughts and understanding.
The three major world religions (Islam, Judaism, and Christianity) believe that God is both personal and infinite. They agree on very little beyond these two elements of God's nature. We often hear the cry of those in the world who desire a peaceful world community where conflict is absent, and for these major world religions to find agreements in their beliefs so that harmony may emerge.
My heart also longs for a world absent of violent disagreements, where innocent people's lives are not destroyed in sectarian squabbles. However, I cannot agree that God is the approving leader of all the major world religions. Why not? Good question. Because the evidence simply doesn't lead to that conclusion. It might seem like a good idea to accept this in the name of world peace, but taking a personal departure from reality is not the answer.
In reality, if you ask a Jewish or a Muslim person whether they believe in the same God, both would respond with a definite, "No." Both would say they know God exists because He appeared to each of their prophets (Moses and Muhammed, respectively) and instructed them to write the verses of scripture which would guide each belief system into truth.
When you ask a Christian how they know God exists, the answer is as powerful as the bang which started the universe. Christians say that they know God exists because He stepped out of the eternal realm and inserted Himself right into our limited space, time reality….in the form of a baby no less. Wow! What an audacious claim. For now, we leave that claim just as it is. The point we're trying to establish here is that it doesn't make sense to say that all the major world religions believe in the same God. An honest look at the evidence simply doesn't lead us to that conclusion. Only Christianity claims that God can be known as a result of a personal encounter with Him because He took on a human form and entered into world history.
I want to conclude here with a few verses from one of the authors of the New Testament portion of the Bible. These verses are from John, the guy who was actually a companion of Jesus when He walked on this planet. This is from First John, chapter 1. [Hint: John is speaking about Jesus here.]
That which was from the beginning, which we have heard, which we have seen with our eyes, which we looked upon and have touched with our hands, concerning the word of life—the life was made manifest, and we have seen it, and testify to it and proclaim to you the eternal life, which was with the Father and was made manifest to us—that which we have seen and heard we proclaim also to you, so that you too may have fellowship with us; and indeed our fellowship is with the Father and with his Son Jesus Christ. And we are writing these things so that our joy may be complete.
Incredibly, John is telling us here that he has met the God of the universe in person. Now that's amazing!
Look for other Amazing Discovery segments where we will explore this audacious claims by Christians. Is Jesus really God in the flesh?