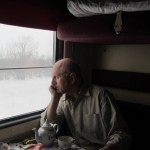 The scenery behind the train window gracefully flows left to right as I am nearing the city many people in the world know as Stalingrad. It was just as cold and the snow was blowing over the vast fields and Volga River valley back in 1943, when the Nazi armies were stopped right here and turned back. I look forward to meeting with the churches' and teachers' audiences of this heroic city (now called Volgograd) in the next three days.
Back in Chelyabinsk, Asbest, Ufa, Samara and Toliatti, over the last several days, my teaching schedule was so intensive that I can hardly remember how I was actually transferring from one event to another. Which actually means that these local pastors, missionaries, and university administrators were taking a good care of me–meeting me at the train station, driving me from one location to another, feeding me, giving me time to rest and setting me up for the next presentation. All I remember are their faces, their smiles and their excitement about what they were to see and hear: the Gospel with Evidence.
Well, there were also teaching times for myself when I was humbled and once again reminded of the love our great God has for each and every person…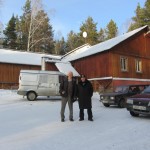 Here's my lesson from the city of Asbest where the local Evangelical church has developed a powerful rehab ministry for drug addicts and alcoholics. Frankly, when their pastor suggested that I present at their facility located in the middle of the woods twenty miles away from the city, I was not sure it would be a good idea. Our FaithSearch Discovery material, I thought, may be somewhat difficult for this kind of audience; I tried delicately to hint this to the pastor. To my frustration he was completely ignoring all my worries and simply dropped me off in the middle of the farm-style compound, at the mercy of its inhabitants… Who turned out to be one of the most attentive and most receptive audiences I had so far on this trip! Many of them were, in fact, well-read and educated and most of them knew the Bible through and through. Reading it, studying it and memorizing it was what they were mostly doing in the course of their rehabilitation program. I loved their questions and comments! I loved hearing and actually learning from their own experiences with God! I was SO humbled that evening.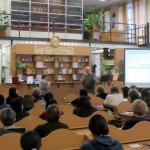 My second time in Chelyabinsk and Ufa (see my September, 2011 entry) introduced me to the Pedagogy University students and the city Public Schools teachers. By that time I had already run out of FaithSearchDiscovery CDs, but they were very grateful for being able to download the whole presentation off our Web site in the format of their choice: PowerPoint®, video, audio or PDF. I look forward to looking at our Web site stats, to see how many of them actually did it, and whether I need to continue carrying all those hundreds of CDs with me next time. It is amazing how in just three or four years I became so …lazy! On my first trips to Russia, Ukraine, Belarus and Moldova, I was hauling cases of the Surprised by Faith books. Look at me now, "complaining" about just a few extra kilograms of CDs in my backpack!
Speaking of which, please, keep my strength and health in your prayers. The last few days of every trip are usually the hardest. Thank you.