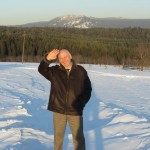 Four days, four cities, four night trains/buses… But most importantly–it is four degrees warmer here in Chelyabinsk! I was sunbathing this morning at -2F!
Back in Izhevsk, famous for being the birthplace of Kalashnikov machine-gun and the largest man made city pond in the world (10 miles across) my presentations in both secular and church audiences were definitely effected by the cold outside: nobody was in a hurry to leave the comfortable and well-heated conference rooms! Each lastedover four hours and we were still discussing the material on our way to the bus stops. Or, maybe, the weather had nothing to do with it and the topic of knowing Christ was indeed so important and so exciting?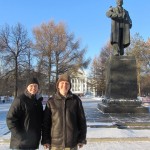 An overnight train brought me to Perm–the home of the best ballet school in Russia. It was natural then, that most of my audience that day were Arts Teachers and our whole discussion was very emotional and very personal, too. After a nice and relaxing tour around the city with a local US missionary, I did my second presentation on that day for mixed group of believers and non-believers at Nadezhda ("Hope") Baptist Church. One of them commented, "I have been an Air Traffic Controller all my life and thought it is the best job in the world. You made me think that being a missionary actually beats it by far."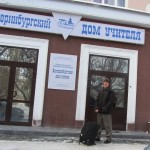 My next stop was Yekaterinburg. Actually, just the few hours between trains was exactly enough for a training session at the regional Teachers' Continuing Education Center. Interestingly, a small Yekaterinburg Baptist church was one of the first places I presented FaithSearch Discovery back in 2006, when it had just been translated into Russian. Who would have thought back then that this material would be accepted (actually, demanded!) by the secular schools in Russia?! Apparently, Somebody could—and has.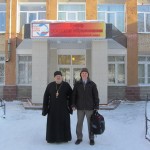 As I mentioned earlier, my first day in Chelyabinsk was marked by sunshine. I was also most warmly welcomed by the local Orthodox Church priest who drove me to his hometown of Zlatoust (Chrysostom) in the Ural Mountains to present at the Regional Teachers' Conference there. With his full support and blessing of the training material, the local teachers seemed to have been listening with doubled interest and enthusiasm. But maybe, again, it was not as much because of Fr. Igor…
Thanks again to all of you who are keeping my family and me in prayer. I will need it again especially for the next couple of days as I am traveling to the city of Asbestos. I hold my breath. Literally.