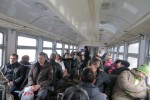 I am on the commuter train to the airport again. This time, I am leaving Moscow for Omsk on a red-eye flight. This is going to be short night: three hours in the air, plus three hours of time difference plus two hours in a hotel before my presentation at the Regional Teachers' Conference.
Going back to day one brings a very dim memory of my PhD thesis review meeting with
my supervisor two hours after landing in Sheremetyevo. After a rather rigorous discussion over the first couple of pages I started to miss some of her questions and recommendation as the espresso content in my blood was fading out. An hour into the conversation she simply started to dictate me her remarks saying, "Just type, Oleg. Tomorrow, when you wake up all this will make lots of sense to you." She let me go only when I could not even see the keyboard…
Day two gave me a chance to present the curriculum of "Intro to Christian Faith Culture: Christian values" over the webinar to potentially thousands of public school teachers all over Russia. Judging from the chat-room feedback my audience covered about seven times zones from Moscow way into Eastern Siberia!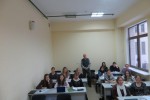 Day three challenged me with two, three-hour FaithSearch Discovery classroom presentations for the Moscow State University second- and fourth-year students. Frankly, I always tremble when entering these doors of the most prestigious of Russian universities–perhaps a backlash memory of my falling just one tiny point short of entering it right out of high school. Well, today was a different story. Both classes were sitting very quietly and listened very intently! I loved seeing their eyes change from suspicion to curiosity, from curiosity to interest, and from interest to joy as we were going through the Discoveries!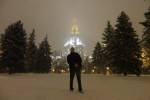 My commuter train, in the meantime, speeds through the white fields of the Moscow suburbs… Here, it is slowing down already. I have to go.
Thank you for your prayers!