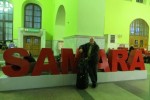 I am on the train again. I am actually on exactly the same train that had already taken me to Samara once a week ago.
This time around, however, I am traveling with my laptop and use my upper-level bunk bed as an office space to type this report. Back then I was apparently packing my backpack for the road in such a haste that this vital piece of my presentation toolkit didn't make it. Of course, I only discovered it when the wheels were already spinning and my first task right off the train in Samara was to find a computer with an Internet connection so somebody could E-mail me my presentations. Luckily, my Alma Mater university has an affiliate campus in Samara and their dean was nice enough to allow me into their office and made sure I had everything I need. Naturally, as soon as introduced myself and told them about the topic I am teaching, the invitation to present the FaithSearch Discovery to their students followed within seconds. Too bad I did not have time to do it for them right away–my ride to Tolyatti was already waiting for me outside. It seems, for whatever reason the Lord wants me to visit this place over and over again.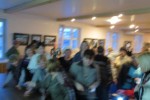 This was, in fact, my second time in Tolyatti in a year. Back in February, a local Baptist Church literally snatched me from the students' conference in Samara and summoned the congregation for an unscheduled evening service for me. This time, over 150 public school teachers gathered in their Regional Training Center to be trained in the Gospel with Evidence curriculum and to receive the CDs containing the presentation. These CDs almost cost me my life as they all suddenly rushed to the podium after the class. Only in the West do people form lines. I should have known better. My water bottle spilled all over the floor. The computer (not my computer) went down and sound cables were torn out as I was pinned to the wall by dozens of hands reaching out for their CD. Maybe, I should have not been so passionate in my presentation and maybe I should not have tried to make an impression that their lives depend on what this disc contains.
Still a bit shaking, I made my way to the city of Syzran on the Volga river that same night for a good hotel rest and psychological recovery. I even had the whole morning to myself on the next day to walk the historic Bolshaya (Large) Street of this beautiful Medieval looking place with a personal guide from a local History Museum. Most of the buildings along that street had some story behind them or at least look "historic" and Vladimir completely took advantage of it. Naturally, I remembered my own times as a tour guide in the Moscow Kremlin in the early 1980's…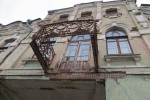 Back to the present times–my teachers were already gathering for the FaithSearch Discovery training in one of those historic buildings marked by an amazing balcony on the facade (see photo). This time, I positioned myself safely near the exit door and gave the CDs to the ushers–just in case. I must have done something differently that night as nobody even moved when I finished the presentation and the Q&A session that followed. Only one teacher cautiously raised her hand and asked: "How much does the CD cost? It must be very expensive as I see how much time and effort was put into developing this material. Maybe we can buy one per School District?" That's it! I forgot to tell them that the materials were free to them. I loved to see their eyes as the ushers started to hand out those CDs! I loved to see how carefully, like a true treasure, teachers were receiving them into their hands!
Another teacher's reaction stuck in my memory from the training I did in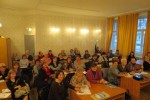 Noginsk (formerly Bogoroditsk) near Moscow a couple of days later: "I am a Math teacher. I value logic and clarity. I have always been looking for some Bible material that I can present just as clearly and logically as I present in my classroom. I found it today in your training. Thank you!"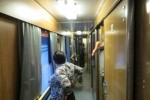 Three other people in my train compartment are getting ready to sleep and I need to close my "office." Good night, everybody!