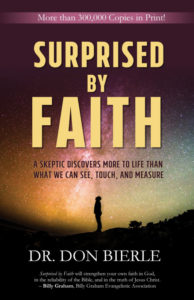 Dr. Don Bierle's best selling book Surprised by Faith, with over 300,000 copies in print, has been released by Aneko Press, in an updated fourth edition.
Some contend that turning to faith is anti-intellectual. "God is about religion," they say, "a crutch for the weak." These are mere caricatures resulting from ignorance. This book confronts false stereotypes and examines the astonishing body of scientific and historical evidence supporting the truth that God exists and cares about people's future. This is the Gospel with evidence.
Dr. Bierle shares his personal discovery of faith. A former skeptic, the author explains the evidence and reasons which satisfied his questions and led him to faith. Updated to include recent discoveries and photographs. A convenient, affordable and effective way to share the evidence for faith, this attractive book expands on the FaithSearch event and complements it by providing documentation and discussion questions.
eBook available FREE from:

Paperback available directly from Aneko Press.