Our warmest greetings from East Texas and prayers that God continue to work in and bless your lives. Here is our latest Gomez Gazette, Spring 2016 edition.
Once more we want to share with you some of the activities God has allowed us to carry out, and to share how He has been using us to work in the lives of Latinos here in Texas.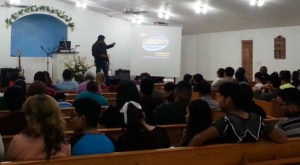 God has given us the privilege of beginning the FaithSearch Discovery apologetic study  on Sunday nights at our church in Tyler, TX. It's encouraging to see many show interest in the study and take the time to ask questions and learn more about this very important topic, especially for youth during this time of invading skepticism.
We continue with our Sunday class preparing Obed and Chuy to take part in the teaching ministry of the church. We ask your prayers for them especially now that they are both preparing to teach a class to the youth for the first time.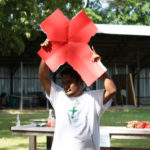 We also ask your prayers for Esther as she continues translating biblical teaching materials. She has finished the FaithSearch discipleship tool Growing Faith, both the Leader's Guide and the student booklet. Soon they will be available for those who are interested. She is currently working on the FaithSearch Discovery study guide for Surprised by Faith.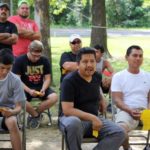 In April we helped with an evangelistic activity that was also a fundraiser for youth and children's camps. Nine teams participated in this volleyball tournament and Mundo presented the Gospel. We thank God for the two people who made a decision to follow Christ.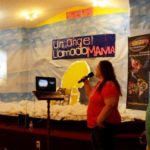 We also had the opportunity to teach a leadership workshop and a FaithSearch Discovery conference at Iglesia Bautista Emanuel in Alamo, Texas. It was great to see how Latin college students got excited about this apologetics topic and took the time to ask questions, not only for their own growth but also to share the Gospel with their professors and fellow students. Please pray for this church that they will put this material to good use and that their youth ministry will grow.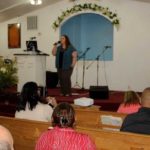 Now we are preparing for a soccer tournament on Saturday, May 28, in which Mundo will share the Gospel–with paint. Pray that God will prepare the hearts of those who do not know Him that they might come to know Him.
We are also preparing a trip to Ohio where we will teach a leadership workshop, a teacher training workshop, and a Vacation Bible School. Pray that God will prepare hearts and provide the funds we need for this trip which is around a thousand dollars.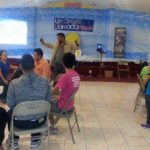 We thank you for your prayers; they are always an encouragement to us, as is your financial support. Please continue to pray for our health, our time in study and translation, for our support, our family in Venezuela–especially their salvation, and that God will continue to guide us and make us more effective in His ministry.
May God bless you and provide in everything; thank you for your part in our ministry.
En la brecha haciendo discípulos de Cristo,
Edmundo & Esther Gomez
Eze. 22.30 y 2 Tim. 2.2
Facebook: Mundo Gomez
If you would like to contribute toward our personal support and our ministry, please click here.