Affirming Evidence from Archaeology
John's Life and Ministry

John the Baptist, God's first prophet to Israel after the close of the Old Testament by some 400 years, had a unique ministry. As the Scripture says, "And it is he who will go out a forerunner before Him in the spirit and power of Elijah…so as to make ready a people prepared for the Lord" (Luke 1:17). Consistent with that calling, John preached a baptism of repentance (Matthew 3:2,6) as preparation for salvation through faith in Jesus. This convicting message was welcomed by the humbler commoners but was rejected by the proud Pharisees and lawyers (Luke 7:29-30). Apparently not much has changed in the 2,000 years since!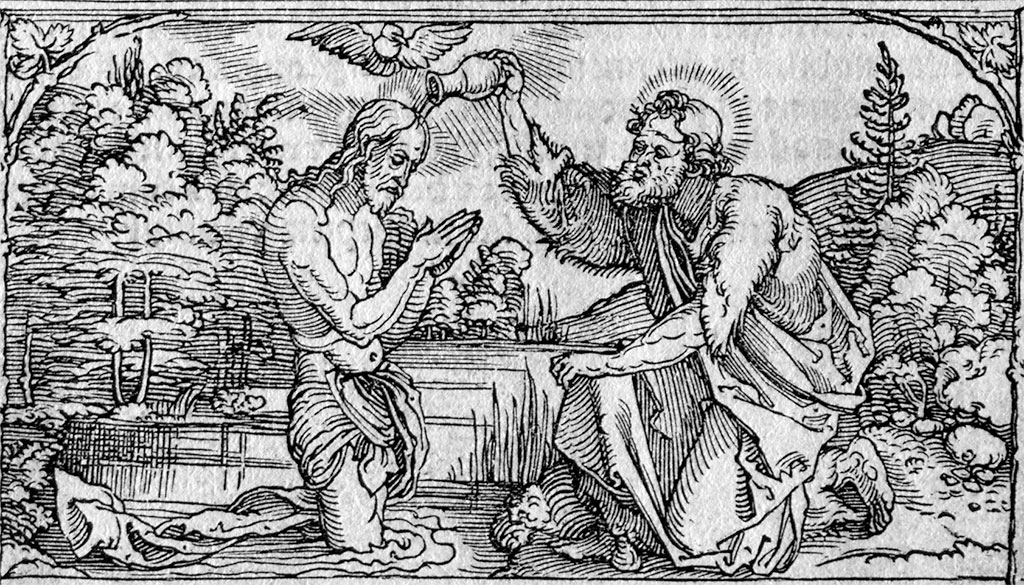 The "Lord" whom John proclaimed was Jesus, who later spoke of John with the respectful accolade, "…among those born of women, there is no one greater than John…" (Luke 7:28). Was that, at least in part, because of his long-awaited mission: to reveal the eternal and incarnate Savior of the world?
The great significance of John is also reflected in the large volume of Scripture about him. Old Testament prophets foretold his coming (Isaiah 40:3; cf. Matthew 3:3 and John 1:23; Malachi 3:1; cf. Matthew 11:10) and all four Gospels include details of his ministry and several aspects of his life (Matthew 3:1-17; 11:2-19; 14:1-12; and parallels in Mark, Luke, and John).
To begin, John the Baptist's very conception was a work of God. Zacharias and Elizabeth, his parents, both of the priestly tribe (Luke 1:5) were beyond child-bearing age when the angel Gabriel announced God's plan to them (Luke 1:7,18). As Gabriel said when he likewise announced to Mary the miracle of her conception, "For nothing will be impossible with God" (1:37).
The angel Gabriel clearly stated God's intention for John the Baptist: "For he will be great in the sight of the Lord, and he will drink no wine or liquor; and he will be filled with the Holy Spirit while yet in his mother's womb… so as to make ready a people prepared for the Lord" (Luke 1:15, 17). This description is taken to mean that John would take the Nazirite vow, a separation of his life from all things except his dedicated service to God. The Nazirites refrained from intoxicating beverages and from cutting their hair, the latter regarded as a crown to the person (Numbers 6:1-7). It is ironic that even this, John's only earthly "crown," should so savagely be cast down in his later beheading (Mark 6:23-28)! To end his vow the Nazirite must shave his head and offer a sacrificial lamb as a sin offering; the former was removed, so to speak, cruelly by Herod's body guard, and the latter by John himself in his offer of Jesus, "Behold the Lamb of God who takes away the sin of the world" (John 1:29).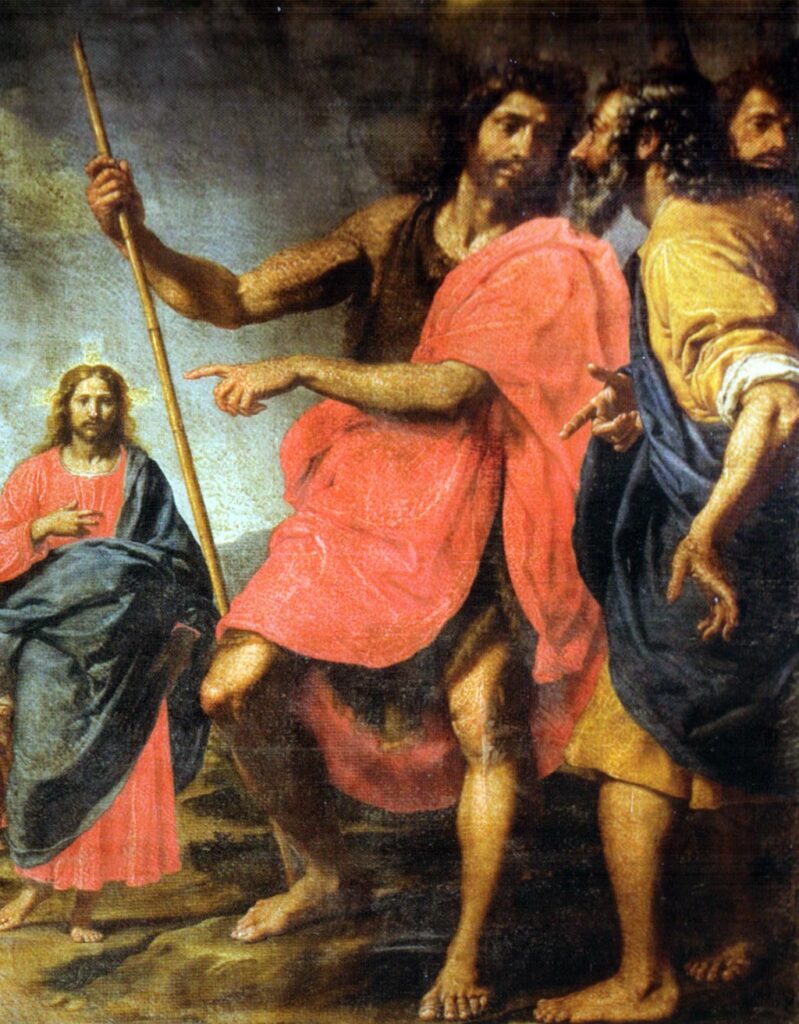 A Brief Chronology
John the Baptist was likely born in about 5 B.C. and began his ministry in early A.D. 26, when he was about thirty years old. First century Jews only gave the right to speak authoritatively to those who are at least thirty years of age. That is why Luke tells us that Jesus was about thirty years of age when he began His ministry (Luke 3:23), about six months after John who was six months older than Jesus (Luke 1:26).
John's popular ministry was cut short after about eighteen months, when he was arrested by Herod Antipas (son of Herod the Great) in the fall of A.D. 27. He was imprisoned at the fortified citadel of Machaerus on the eastern side of the Dead Sea (which the tetrarch Antipas inherited from his father). About six months later (spring A.D. 28) John sent his disciples to ask for confirmation that Jesus was really the Messiah who was to come (Matthew 11:2-6). During this time, John had intrigued Herod who feared him as a righteous man and to whom he liked to listen (Mark 6:20).
It was very early in A.D. 29 when Herod's fateful birthday party occurred. Herod was seated on his elevated throne with his wife Herodias. They were entertained by the dancing of Herodias' daughter Salome on the lithostrotos (stone pavement) of the 7,000-square-foot royal courtyard. Herodias hated John and wanted him killed for saying to Antipas, "It is not lawful for you to have your brother's wife" (Mark 6:17-19). Her first husband was Herod Phillip, the brother of Herod Antipas.
Her opportunity came when Antipas offered Salome whatever she wished, and Herodias told her to ask for John the Baptist's head on a platter (Mark 6:21-28). For the courage to speak the truth, John went to prison and then to his death. His vow and service to God was fulfilled. The King had come and there was no longer a need for the herald.
How legitimate, how historical, is the life and ministry of John the Baptist?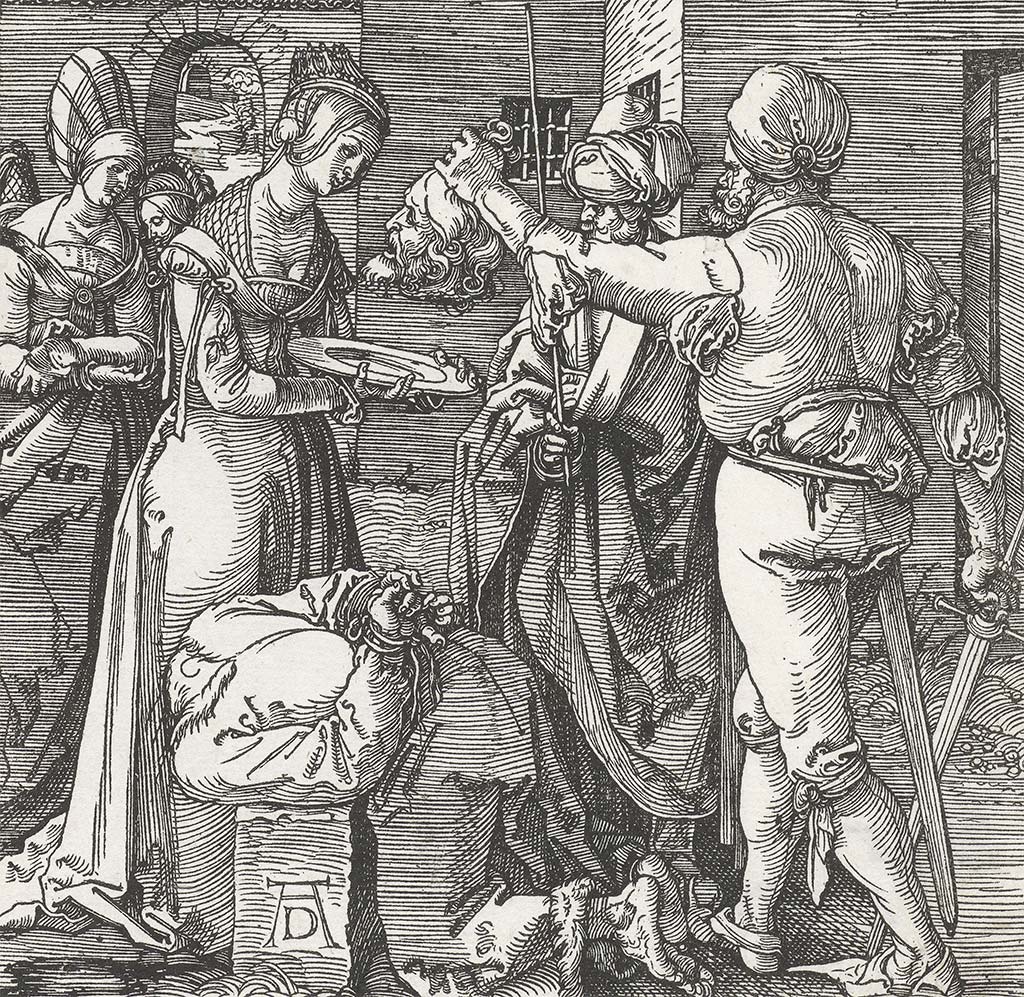 Archaeological Confirmation
The fortress of Machaerus was built in about 90 B.C. with an incredible view of Jericho, the Temple of Jerusalem, Masada, and Ein Gedi. It was destroyed in 57 B.C., transformed into a royal palace and city by Herod the Great in 30 B.C., and destroyed again in A.D. 36, seven years after John was murdered there. The Romans destroyed what remained of Machaerus in A.D. 72, and it disappeared from the maps for nearly two millennia, causing some to question the historical integrity of the New Testament account of John the Baptist.
In the last seven years that doubt has been removed by archaeological excavation. Machaerus is one of the few archaeology sites in the Holy Land from the time of the Gospels that has now been reconstructed using original architectural elements. In addition to Herod's citadel of the upper city, archaeologists have now revealed the lower city with a well-preserved surrounding wall. This latter is where John was kept under house arrest and where his death occurred.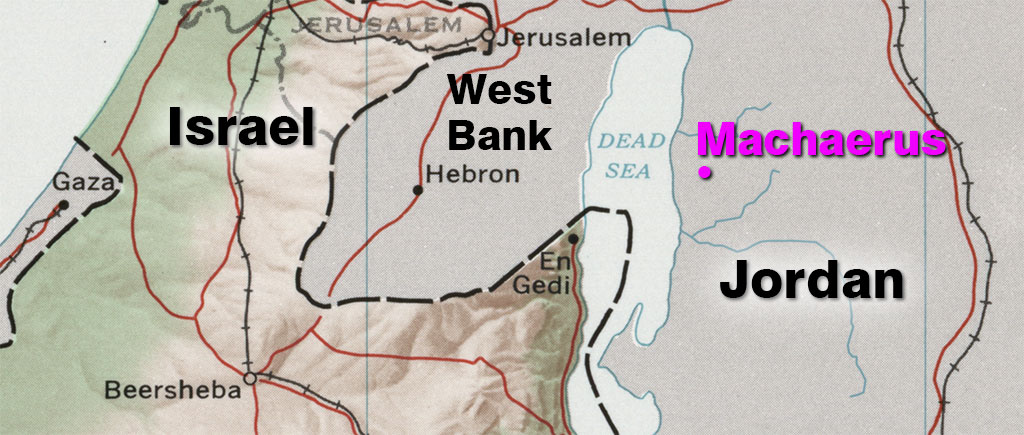 As recently as 2019, the royal courtyard and semicircular apsidal niche of the royal Herodian throne seat were restored. As a result of this restoration, author Gyozo Vorosa states, "The once magnificent 7,000-square-foot royal courtyard – with its in situ apsidal throne niche and even part of the lithostrotos ('stone pavement') – had to be the setting for the birthday banquet of Antipas, described by the Gospels." He adds, "the historical references of the Gospels… can be wonderfully contextualized with archaeology…"
An Attribute of Greatness
The Bible is replete with the theme that God hates the proud but loves the humble (Proverbs 6:16-17; 16:5, 19; Isaiah 66:2; Matthew 18:4; 1 Peter 5:5). God loved John the Baptist. When asked who he was, John responded, "I am a voice of one crying in the wilderness, 'Make straight the way of the Lord'…" (John 1:23). When introducing Jesus he said, "It is He who comes after me, the thong of whose sandal I am not worthy to untie" (1:27).
Looking back on his life at age thirty-three, he would remember the great sacrifices he had made for the popularity and success he was experiencing as he preached repentance for the forgiveness of sin. His disciples reported to him that many more people were turning to Jesus, which they apparently viewed as an infringement on John's rights. But John saw it differently. In total humility he declared, "A man can receive nothing, unless it has been given him from heaven… He [Jesus] must increase, but I must decrease" (John 3:22-30). "And so this joy of mine has been made full" (3:29). Indeed!
Source: "Restoring Herod's Throne Niche at Machaerus," by Gyozo Voros. Biblical Archaeology Review, Vol. 46 No. 5, Winter 2020, pp. 30-37.