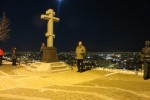 My seven days in Krasnoyarsk passed like one never-ending 168-hour-long day. It started with a five hour redeye flight over four time zones from Moscow, and a press-conference in the city government office right off the plane. It ended today with a church conference that lasted until 30 minutes before my train to Omsk. Two presentations per day was my average, and midnight was my usual time back at the "base" from the last one.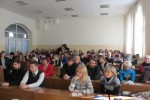 "Remember, Oleg, that you are in Siberia, so please speak a little slower," was a friendly advice I heard more than once during this week. Moscovites are known to be fast speakers and generally high-pace people. Siberians take pride in being deliberately relaxed, take-your-time and let-me-think-about-it kind of folks. Most of the presentations, therefore, lasted at least an hour longer than planned, which left me with very short breaks in between–just enough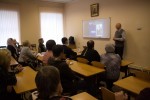 for my drivers to take me from one end of this 1 million population city stretched along Yenisei-river to another. Luckily, my audiences were just as slow-paced in arriving to the events granting, me with a few extra minutes to swallow my to-go lunch or supper, while climbing up the stairs to a classroom, a worship center, or a private apartment used by a home church.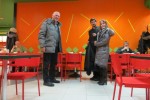 On a couple of occasions I also enjoyed some added break time while the whole event was relocating as the assigned conference hall proved be way too small to fit everybody who showed up for the event. First, they were adding chairs but at about ten minutes into the presentation, not only was all the space taken, but some people were still standing outside the doors and others sitting in the window sills.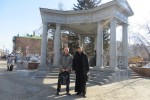 By the order of the fire marshal or a security person I had to stop the event, unplug my laptop and projector, and move to a larger space. "I am so sorry! We only invited the city teachers and the pedagogical university students but apparently the word got out and many people from the region also got interested," apologized the university dean. Her apologies were accepted.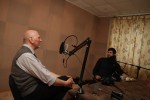 My formats this time varied a great deal–from traditional teachers' and church conferences to small group discussions, radio programming, press-conferences, open-microphones, and event talk-shows with lots of interaction and completely unpredictable question from the audience: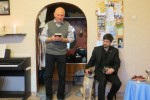 Why has this historic and archaeological evidence for the Gospel been hidden from us for so long? Why are Americans so worried about our Russian spiritual matters? What historic evidence do you have for the years Jesus spent in the East as a teenager learning from their wisdom and mysticism? Do you think it is fair that we, public school teachers, are now charged by the government with the task of teaching religion in Russia if the church does not seem to be doing her job?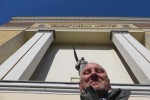 How can a school teacher teach the class of  "Intro to the Christian Culture" if he or she is not a believer? Are your own children persuaded by your FaithSearch Discovery presentation? How dare you teach us anything about the urgency of coming to faith if according to your own testimony you only accepted Christ after years and years of atheism?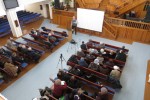 Etc., etc., etc. Luckily, my host and organizer of the event, a Lutheran pastor took upon himself some of this fire and the feedback cards showed that the audience was in fact very much satisfied and happy with the answers they had received.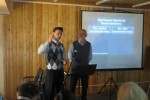 …My overnight train is now taking me to next destination point–the city of Omsk. Unfortunately, there is no power source in the car and my laptop is about to go to sleep. I should probably follow suit.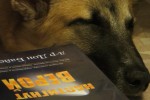 Thank you for your prayers–I live by them.