Glimpses of Redemption in God's Creation Design
One result of the advent of sin into the world was a curse upon the creation, including humans (Genesis 3; Romans 5:12). By His grace and wisdom, God placed within created organisms designs for humans to discover which can reduce the effects of the curse. Such is the case with the Morpho butterfly, native to the rain forests of Central America.
Scientific studies of this butterfly's eyes have inspired a new camera. When incorporated into special goggles worn by a surgeon, s/he is able to detect imbedded and dyed cancer cells (by infrared fluorescence) and tumors directly through the overlying skin. This minimizes the number of incisions needed and assures that cancer cells are not left behind in the body.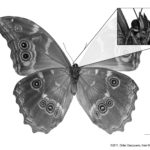 Previously, the least expensive instrument for detecting cancer cells cost about $20,000. The butterfly-inspired cancer camera/goggles will cost about $200.
God loves us and demonstrates His love through the design and grace found even in the fallen creation.  
Source: Answers Magazine, Vol. 13, No. 4; July-August, 2018. Page 33.