Old Testament History Confirmed… Again!

Like it or not, the title of a 1968 country music hit, "Stand By Your Man," recorded by Tammy Wynette, may be an appropriate epithet for the wife of Noah.
Imagine being married to a man who toiled for about 100 years (Genesis 5:32; 7:6) to build an immense ark (on dry ground) – commanded by God in anticipation of a global flood (6:14-18). It was not a pleasure boat, but a three-decked ship, 510 feet long, 85 feet wide, and 51 feet high (just a little short of two city blocks long and taller than a three-story building).
Imagine experiencing the likely decades-long ridicule and mockery of the decadent culture in which she lived (6:5, 11-12).
Imagine raising three sons (who somehow attracted wives!) to resist rebellion when their social identity was with an allegedly "crazed" more-than-500-year-old dad (5:32) who had visions from God.
Imagine living on the ark for a year (7:11 and 8:14) and helping to care for hundreds of animals for hours every day.
Imagine the ever-present reality of fearing for your life as you toss and turn in the tempest, both day and night.
Imagine the overwhelming uncertainty of the future as she stepped out of the ark into a strange new world.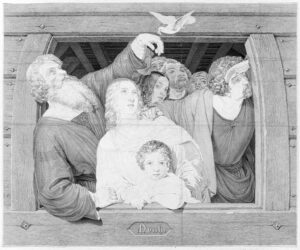 All this and we don't even know her name! We know Eve, Sarah, Rebecca, and Rachel—biblical matriarchs whose names have survived for thousands of years. Yet the name of our great, great, great… grandmother, Noah's wife, is conspicuously absent from the history of the entire Bible.
The Bible is also silent about her character and whether she, too, followed God faithfully. Most would agree it is difficult to imagine that she didn't faithfully support and assist Noah through the incredible task of building the ark, and during the year-long stay aboard the vessel during the flood. But we have no way of knowing, other than that she was invited aboard the ark by God.
While we can't be sure of Mrs. Noah's name, it is not for a lack of trying. The earliest name given for Noah's wife is Emzara, found in the non-canonical Jewish Book of Jubilees (4:33) from the second century B.C.: "Noah took to himself a wife, and her name was Emzara, the daughter of Rake'el, the daughter of his father's brother." [This would make her Noah's first cousin.] The name is not in Scripture, but it is also found in the Genesis Apocryphon, which was discovered among the Dead Sea Scrolls (also dated to the second century B.C.).
The name Emzara may not have been widely accepted. Later rabbinic literature gives Noah's wife a different name. The Jewish midrash (ancient rabbinical interpretations of Genesis) known as Genesis Rabba (AD 300-500) states, "Naamah, daughter of Lamech and sister to Tubal-Cain, was Noah's wife." A later midrash, the Book of Jasher (mentioned in Joshua 10:13 and 2 Samuel 1:18) also calls her Naamah but says she was the daughter of Enoch. The caution here is that the text of the Book of Jasher we currently have is considered to be a forgery, and is not the same as the work referred to in Scripture.
Of course, this is all speculation because it is not found in the Bible, our only infallible source for information about the life of Noah, his wife, and the flood. What we can know with certainty is written in Hebrews 11:7: "By faith Noah, being warned by God about things not yet seen, in reverence prepared an ark for the salvation of his household by which he condemned the world and became an heir of the righteousness which is according to faith."
Jesus warned that His second coming "will be just like the days of Noah" (Matthew 24:37-39). The apostle Peter similarly points out that "in the last days mockers will come…saying, 'Where is the promise of His coming?'" (2 Peter 3:3-4). Will we, like Noah, be "preachers of righteousness" (v. 5) and answer people as Peter instructs: "The Lord is not slow about His promise as some count slowness, but is patient toward you, not wishing for any to perish but for all to come to repentance" (v. 9)? Indeed, that is the heart of the FaithSearch message as we labor in partnership with you, our Friends, until God closes the door on history for eternity.
Sources: "Who Was Noah's Wife?" Tim Chaffey. January 20, 2015. AnswersInGenesis.org
"Who Was Noah's Wife?" John Drummond August 2, 2021 Bible History Daily (BAR)