Christ is risen! He is risen indeed!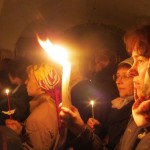 I have seen it for myself happening in the hearts of hundreds of Russians who filled the church for the overnight service in St. Petersburg. It began at 10 pm on Saturday night and ended at 3.30 am on Sunday morning with a candlelight procession around the church at midnight.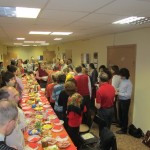 Then a group of close friends and families walked (no public transportation at this hour) to a place where the Great Lent was broken by a real feast that lasted until… I am not sure when it ended because I started to feel a little tired and left as soon as the subway system opened at around 6.30 am. These people really know how to celebrate!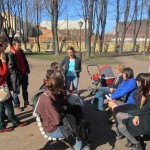 Sure enough, the celebration continued in a less formal way by inviting non-believers to the outdoor event in the park this same afternoon. Great time of sharing the real meaning of Easter with people who only think they are Orthodox Christians because they were born in Russia (sounds familiar?).
Please continue to pray for my last two days of ministry here. One more early morning radio presentation was just added to my already packed schedule for tomorrow. It's going to be a long day.