Our warmest greetings from East Texas and prayers that God continue to work in and bless your lives. Here is our latest Gomez Gazette, Spring 2016 edition.
Once more we want to share with you some of the activities God has allowed us to carry out, and to share how He has been using us to work in the lives of Latinos here in Texas.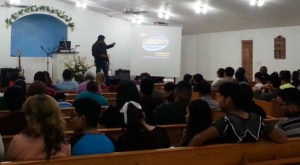 God has given us the privilege of beginning the FaithSearch Discovery apologetic study  on Sunday nights at our church in Tyler, TX. It's encouraging to see many show interest in the study and take the time to ask questions and learn more about this very important topic, especially for youth during this time of invading skepticism.