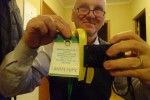 It is -20F outside of my room and it was even colder last night as my red-eye flight from Moscow-Yekaterinburg made a soft landing here. It didn't even wake me up and it was the flight attendant who shook me by the shoulder: "What are you doing here?" The crew was about to leave when they found me still sleeping in my seat. One of the most important skills they teach you in the Missions 101 class in the seminary is – to take advantage of every minute to sleep and to be able to do it in any position – sitting, standing, hanging, walking…
My last several nights were also rather short as I traveled outside of Moscow on an early commuter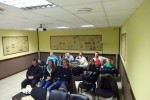 train and returning to my quarters late at night. I taught my FaithSearch Discovery classes that usually range between three and four hours pretty much every day, sometimes augmenting them by the Introduction to the Christian Culture course that roughly half of Public school teachers in Russia are now teaching using my textbook. I have also taught it in two theological schools (one Orthodox and one Adventist) training future church leaders – clergy and laity – to employ our material in their teaching, preaching and evangelism work.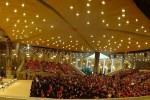 Back to my very first couple of days in Russia, when I rushed from Sheremetyevo airport straight to the Christ the Savior Cathedral basement Great Hall to catch the official opening of the 5th All-Russia Conference of Diocese Missionaries. I was afraid they would have not let me in if I arrived after Patriarch Kirill entered the auditorium. I made it into the building three minutes before His Eminence. God's perfect timing – He delayed the Patriarch's cortege so that Oleg's tram can deliver His humble servant to this event on time. Just kidding.
Luckily, the next two days of the conference were not so …official, but it definitely was off schedule.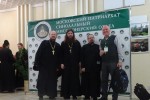 Almost every speaker took their sweet time on the podium and spoke for up to 40 minutes (instead of 10 min maximum) completely ignoring the bell and other signs made to him or her from the presiding panel. As a result, my presentation was pushed, pushed, and pushed again… until the conference was over! Oh, Russians! When will you start doing things on time! Well, praise the Lord, my preparation was not in vain as the Russian Orthodox Missionary Review magazine will publish my presentation paper in the December issue.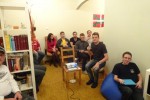 My host here, in Yekaterinburg, is about to arrive and to take me to my first presentation of the week-long Urals region trip which will also include: Krasnouralsk, Serov, Karpinsk, Severouralsk, and Nizhniy Tagil. Please pray for me as I travel long miles on icy Russian highways to reach people in these cities with the Truth of Christ.
PS. Special thanks to an American missionary couple in Bryansk for a day of ministry and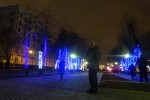 a true Thanksgiving night!