By Dr. Don Bierle, FaithSearch President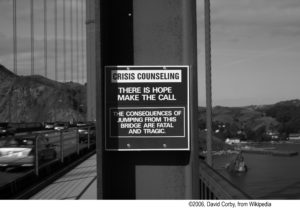 Suicide. It's something most of us would rather not talk about. For some, it is too personal and painful to discuss. 
According to the Center for Disease Control and Prevention, in the U.S. alone, there were 45,000 suicides in 2016 compared to 17,000 murders and 38,000 automobile deaths. In addition, there were 25 suicide attempts for every completed one. It is astounding to realize that someone attempts to end their life every 28 seconds in the U.S.! What is going on?
Suicide is not new. What appears to be new in the last couple of decades is the growth in feelings of despair, anger, loneliness, anxiety, lack of purpose, sadness, and fatigue as the causes of suicide. It appears to be getting worse with each generation: among those 15–34 years old, suicide is the second-leading cause of death. 
Puzzling to researchers is that more than half of those who now commit suicide had no known mental disorder. This probably means that more people are suffering from situational depression (life circumstances) rather than clinical depression (including bipolar disorder, schizophrenia, etc.). Those most at risk are young people aged 15–24; females; men over 65; indigenous people; and those whose sexuality and gender identity differs from their biological expression.
Alexander Solzhenitsyn's address at Harvard in 1978 now seems prescient: "We have placed too much hope in political and social reforms, only to find out that we were being deprived of our most precious possession; our spiritual life." King David identified the same truth: "Why are you in despair, O my soul? And why have you become disturbed within me? Hope in God, for I shall yet praise Him, the help of my countenance, and my God" (Psalm 42:11, NASB).
The night before His crucifixion, Jesus said He would be the source of comfort and peace for us in times of anxiety: "Peace I leave with you; My peace I give to you; not as the world gives, do I give to you. Let not your heart be troubled, nor let it be fearful" (John 14:27,  NASB). If we confess our sin and yield our life to Jesus, He will show compassion, offer mercy, bring hope, and instill purpose within us. 
It is not this author's intent to suggest there is nothing wrong with anyone except the spiritual–as if to say, "trust Jesus and all will be well!" There certainly are clinical disorders which require medication; substance abuse that requires psychotherapy; and trauma which counseling can help. In all my research for this article, not once did I find the secular counseling profession, departments of health, nor the media to acknowledge a spiritual antidote to thoughts of suicide. This is a tragedy within the tragedy of increasing suicide.
The Holy Spirit revealed God's promise through the apostle Paul (Philippians 4:6-7, NIV): "Do not be anxious about anything, but in everything, by prayer and petition, with thanksgiving, present your requests to God. And the peace of God, which transcends all understanding will guard your hearts and your minds in Christ Jesus." Numerous people who failed in their suicide attempt and through it turned in faith to Jesus Christ, testify from their newly-healed life to this truth and that of the Psalmist (Psalm 34:18, NASB): "The Lord is near to the brokenhearted, and saves those who are crushed in spirit." 
Surely, this should count for something even in the secular world—if they truly care about those who are hurting!
Sources: World Magazine, Vol. 33, No. 12. "People in Pain." Pages 8-9.
Wikipedia, "Suicide"
NOTE: If you or someone you know is experiencing thoughts of suicide, talk to someone. Call 911. Call the suicide prevention lifeline 24-hours a day at 1.800.273-TALK (www.suicidepreventionlifeline.com).