A New Meaning of "Goliath"
When asked what the largest living organism is, people would likely suggest the African bush elephant (5 tons); blue whales (200 tons); or the giant sequoia tree (1,000 tons).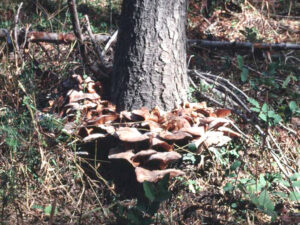 These are but "babes" compared to the honey mushroom (Armillaria ostoyae). Parasitic on trees and living mostly underground, the largest single fungus known covers over 2,240 acres (3.5 square miles) and may weigh up to 35,000 tons. It is colloquially called the "Humongous fungus" and is found in the Blue Mountains of Oregon.
Sources: Answers Magazine, July–September, 2022, p. 54; Wikipedia – Armillaria ostoyae