Looking Forward and Being Thankful…
By Adrian Van Vactor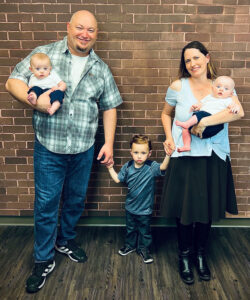 My favorite time of year growing up was the Christmas season. Not just gift giving (well, receiving, if we're being honest) but also the entire buildup of how my very secular upbringing celebrated it, from Thanksgiving until Christmas. At least I felt that for a time.
Then our family was broken by the sin of divorce when I was barely eight. Christmas was no longer a highlight to anticipate all year. It became a stark reminder of the pain caused by the loss of family and togetherness. Then I met Jesus. I discovered what this time is all about. My focus shifted from a horizontal, unhealed wound, to a vertical, God-directed exultation. However, the lingering longings of a full, joy-filled family at Christmas remained.
Fast forward four decades. Our son Kal will be three in early December. Our twin boys born last April, Logan and Benjamin, soon will be walking. Alyson and I struggle to hold back the tears of delight and deep-felt gratitude, not only to celebrate our Savior, but—especially for me and for the first time in many years—to experience the absolute blessing of a whole family once again, during the season when we celebrate how God brought us into HIS forever family.