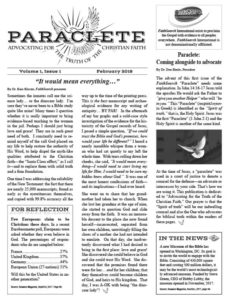 In 2018, FaithSearch is celebrating our fortieth year of evidence-based ministry. Our latest publication is "Paraclete," a news digest designed to "come alongside" to help you understand and defend your Christian faith.
Each issue reviews recent literature, topics, and events for evidence demonstrating the validity—and impact—of the Christian Gospel message. Our evangelists reflect in meaningful ways on how the Gospel-with-evidence which we proclaim is making a difference their ministries around the world.
This periodical is sent to our donor list, and is also available online (click here or on the photo to the right). Let us know what you think.