Part Two: "My WORLDVIEW"
By Dr. Don Bierle, FaithSearch President
FaithSearch International exists to extend the Gospel with evidence to all peoples everywhere. In 1 Peter 3:15 the apostle expresses how to be an effective witness to people whose minds are shaped by secular thinking. In the last two issues of the Paraclete I began explaining the components of what I am calling "A 3:15 Response." In this issue I will expand on the second component.
My WORLDVIEW: "These are the ingredients which help me to think like Jesus."
We want to think like Jesus does, so we will act like Him. Our Christ-like life is not only a "lamp" to point people to God (Matthew 5:15-16). It is the substance of our "STORY" which we share with the lost (detailed in the last issue of the Paraclete).
Your worldview is a "lens" through which you understand reality. If you believe God exists, then creation, life after death, moral absolutes, prayer, worship, and divine revelation are a part of your reality. If you don't believe in God, then you accept none of these as true! This reveals the importance of one's worldview. The prevailing worldview in our legal system, public education, and government in the U.S. today is secular humanism—which denies the existence of God. No wonder we are experiencing problematic behavior: murder, sexual promiscuity, abortion, lying, drunkenness, factions, etc. These are "deeds of the flesh" (Galatians 5:19-21) resulting from wrong thinking. Our beliefs matter!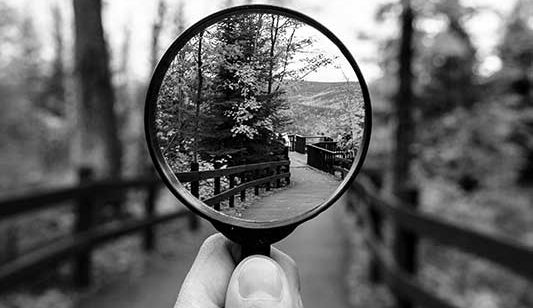 How can we shape our minds to think like Jesus so our lives bear the "fruit of the Spirit" instead (Galatians 5:22-25)? The apostle Paul tells us how: "Do your best to win full approval in God's sight, as a worker who is not ashamed of his work, one who correctly teaches the message of God's truth" (2 Timothy 2:15, TEV). The development of each person's "My WORLDVIEW" must be proactive, not passive. To think like Jesus means we must identify, study, and affirm seven ingredients of a Christian worldview:
The Core Ingredient: 1) GOD
Supernaturally Revealed Ingredients: 2) The BIBLE, 3) JESUS CHRIST, and 4) CREATION
Derived Ingredients: About 5) MAN, the 6) UNIVERSE, and 7) TIME (history)
Are we animals evolved from ape-like ancestors? If we were not created uniquely in the image of God, then "Yes." Did Jesus sin when He was on earth? If He is not the incarnation of God, then "Yes." Is there an eternal destiny for all people in either heaven or hell? If the Bible and the revealed Word of God are not true, then "No."
Once again, your worldview is a "lens" through which you understand reality, and the Bible and the Holy Spirit sharpen your lens' focus! As Scripture says, "Now we have received, not the spirit of the world, but the Spirit who is from God, that we might know the things freely given to us by God" (1 Corinthians 2:12).
Refer to the diagram, "A Christian View of Knowledge." Our secular educational institutions can teach us something about humanity, the universe, and history by their observation and experimentation, but it is not possible to correctly understand these derived components of our worldview without knowing what the supernaturally revealed components say about them.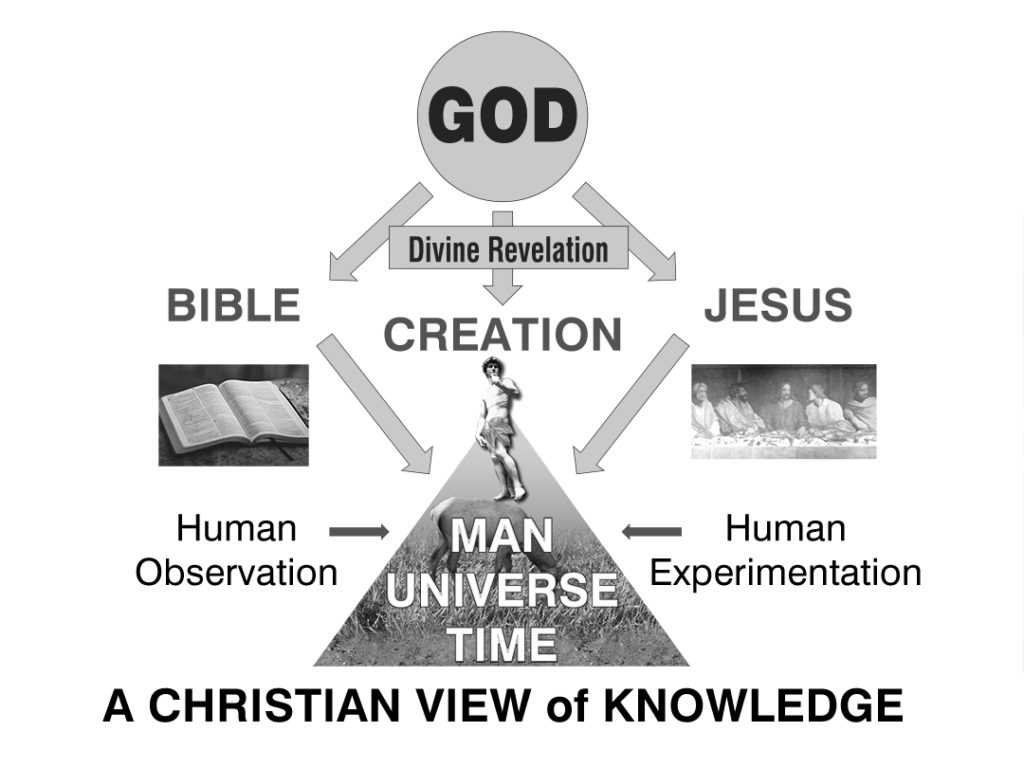 In order to fulfill Jesus' heart (Matthew 28:19-20; Luke 24:46-48; Acts 1:8) every Christian's worldview needs to know what God's Word says about all these ingredients. I have posted on our Web site a worksheet that defines each ingredient, details elements of them, and lists many Scripture passages for support. I encourage you to print the sheets, look up the passages for yourself, and meditate on them.
In addition to sharing your experience with Jesus ("My STORY") you will then also be prepared to build your life testimony upon the ingredients which help you think like Jesus (1 Corinthians 2:16): "My WORLDVIEW."